Side Splitting: Fractured Soul Coming To PC
Make like a banana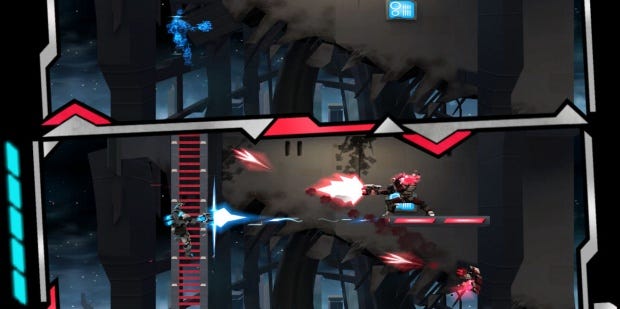 Originally released as a 3DS game in 2012, Fractured Soul took heavy advantage of the two screens by having you platform one character in two places at the same time. Brain ows. Tomorrow, as if from nowhere, it appears on the PC, employing the magic of splitscreen to achieve the same effect.
To get an idea of how the retro-styled dual-brained platformer/vertical shoter works, have a look at this:
You play the Entity, a chap who can "shift between realities at will", as is so often the case. The idea is to flip between which version you're controlling as you play and I honestly can't get my head around it before I play it.
The game scored pretty well when released for DS, hitting 7s and 8s (although I am entertained by a site called Hardcore Gamer getting very stroppy about the difficulty). Perhaps a little too difficult on release for the handheld, the decision's been made to create a more sensible difficulty level for this release. The original mode of course remains as the "Hardcore" setting. Abd there's a co-op version added in, which introduces the peculiar irony of a single-player-co-op design forcing two people to work together very closely.
It'll be available tomorrow on GOG and Desura, or via the game's own Humble Store. And naturally there's a Greenlight page.