Signs Of Life Has Signs Of Life, Such As MechaChickens
A starbound Terrarialike, you say?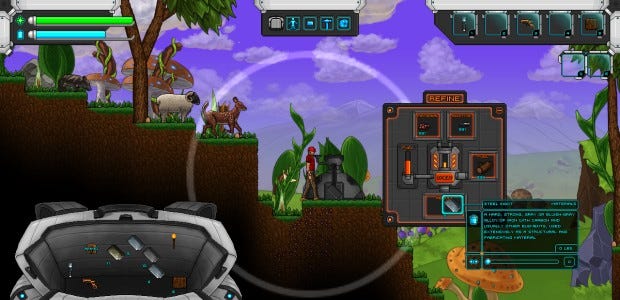 Another partly procedural Terarrialike about spaceships, planet surfaces, building and exploration? I was about to pass Signs of Life right by, till I saw its page of GIFs. These a degree to which its world and character animation is extremely awkward. There's also a degree to which that awkwardness makes its sheep, chickens and protagonist in cut-off jeans seem extremely cute.
Signs of Life just launched on Steam Early Access, and there's a trailer below.
While it clearly has similarities to Starbound, Signs of Life isn't infinite, building its planets and spaceships from a mixture of procedural and handcrafted content. It's also singleplayer, with some wibble to explain why you're the, or probably one of the, last remaining humans alive, attempting to settle and survive on a new earth-like planet.
I'm interested in this for two reasons, beyond that awkward cuteness. One, the livestock. Not the mechanical poultry with the laser eyes, but just the regular chickens and sheep and your ability to scatter feed for them. There's almost nothing I find as relaxing as tending livestock in videogames. No, Farmville doesn't count. Two, was this:
In a world of spaceships and lasers, there is still no finer weapon than a bow and arrow. There's many more GIFs and development updates at the game's website.