Take Back The City In This Ambitious Skyrim Overhaul
City living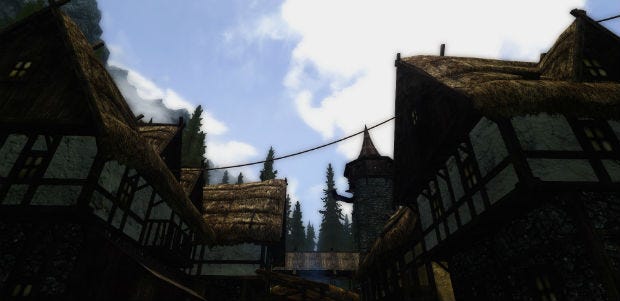 The Elder Scrolls V: Skyrim [official site] turns five this year [that can't be corre- oh my god, we are so old -ed.], but that's not stopped its dedicated community from expanding its dragon-bashing, Thu'um-shouting, knee-shattering boundaries with mods, updates and overhauls. The latest pick of the ever-multiplying crop is Galandil's Holds The City - an ambitious overhaul that adds new settlements, architecture and characters to Skyrim's towns and cities in a bid to increase its population and weave new tales into its existing lore. Come see a trailer after the drop.
It's pretty impressive in its entirety, but skip to 1:35 for neat before and after shots:
Working part time on Holds The City Overhaul since late 2012, creator Galandil has poured countless hours into the game's creation kit as a means of crafting the best interpretation of Skyrim as possible. After transitioning from Oblivion, the lack of a Better Cities mod or equivalent set the project in motion, with Galandil even writing books from scratch as a way of fleshing out the realm's history. Keen explorers can seek them out in various locations across the map, such as the book store in Falkreath, the Haafingar Library in Solitude, and The Palace of Kings Library in Windhelm. Speaking to the mod's design choices, Galandil says:
"Falkreath, Winterhold, and Dawnstar have been rebuilt from scratch with their own unique designs. The mod also adds a bundle of new settlements like Amber Guard and Black Moor. Most of these new settlements have been placed far out of the way and hidden from view to not ruin the expansive wilderness theme of the game. The aim of all of this is to create a more memorable and diverse experience, making the cities actually feel like cities hopefully without ruining the natural and realistic design of the vanilla game.

"This is not a botanical garden mod, nor is it a beautification mod. Holds aims to stay as lore-friendly as possible and at the same time expand on the backgrounds and stories for its locations."
Interested? If so, installation instructions and a handy Q&A can be grabbed over on the Nexus forum.