Grossing You Out This Spring: Slain
Hyper-hard hyper-violence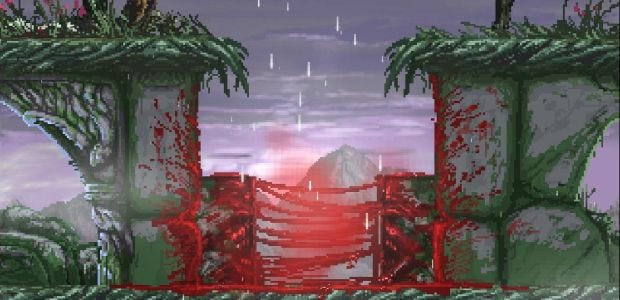 In much the same way that it's okay when it's zombies, retro decapitate-'em-up Slain relies on developer Andrew Gilmour's gorgeous pixel art to make it's gore-splattering slightly less horrifying. It's an action platformer featuring a two stage system of seven levels each comprising a side-scrolling wilderness and vertical-scrolling tower. The outside areas will usually be combat orientated and denser with enemies, while the towers have more puzzles and traps. Hero Bathoryn uses a ludicrously large sword to cleave his way through these and anything else that happens to be in the way. Trailer and thoughts on the EGX demo build below.
While it's still very early (the version number for the build I played was "pre-alpha 0.0.09" meaning I believe technically it doesn't exist), there's promise. The art and animation carry it well, sword swings sending heads looping from bodies, spewing blood. It's necessarily satisfying, counteracting the classically extreme difficulty and allowing a vent for frustration. Each level is distinct too, with new sights and challenges in the form of enemies, traps and tilesets.
Still to be implemented is a magic system, providing a much-needed ranged option to Bathoryn's suite of abilities. In the publisher announcement post there's also talk of transformation into beasts, which I would presume will be powered by the same system. There's still a lot of work to be done creating the rest of the levels and crafting the story before the planned release in March.