Slasher's Keep thrusts and lunges into Early Access
Face!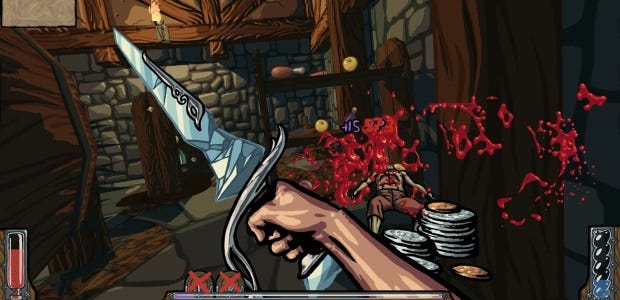 There's just something delightfully satisfying about a solid and tactile first-person dungeon crawl. Sneaking around danger, spotting traps with your own two eyes and shoving loot into your backpack en-masse and swinging your mouse around to bash in heads has been a compelling loop as far back as I can remember.
The latest game to keep an eye on in this venerable sub-genre is Slasher's Keep, newly debuting on Steam via Early Access. A melee-centric dungeon crawl with procedural level generation and a charming art style full of pin-sharp sprites, and monsters constructed of hand-drawn segments rather than polygons.
Melee is clearly key to Slasher's Keep, with the position of enemy limbs telegraphing what direction they'll swing from and telling you how best to parry or block the oncoming attack through manual weapon positioning. It seems that the noggin is the primary target for most of your attacks, and I can't help but chuckle at the enthusiastic 'Face!' notification whenever the player scores a direct hit in the trailer, but it does feel a bit more succinct and snappy than the typical 'CRITICAL' or even 'HEADSHOT' text which you see in so many other games.
There also seems to be a vein of Dark Messiah of Might & Magic running through Slasher's Keep, with many traps seemingly designed for you to exploit, rather than pose an immediate threat. Shoving stubborn zombies into conveniently placed spike racks is present and correct, as are pressure-pad triggered devices that you can splatter your foes with assuming you managed to avoid triggering it yourself.
According to the developer's description on Steam, the current release of Slasher's Keep is a mostly self-contained and complete game, minus a couple sounds effects. Over the course of 5-7 months, lone developer Damian Schloter plans to add a little more of everything - room types, enemies, traps, etc - to help flesh things out a bit more, as well as listening to feedback so that bugs can be squashed and the more egregious difficulty spikes can be smoothed out a bit.
The first Early Access release of Slasher's Keep is available now via Steam for £11/$14, minus the standard 10% debut discount. The final price may go up after the game leaves early access.