Smash Televisions: Dog Wolve
Dog friend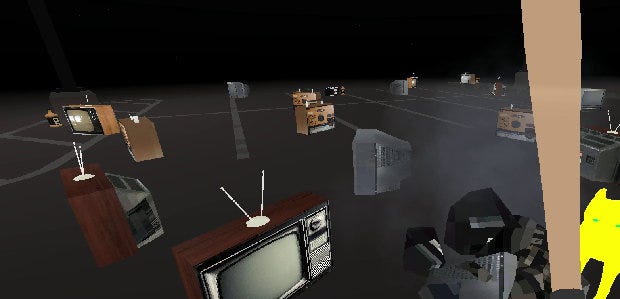 Don't you ever want to simply smash up a load of stuff? Beat things until they explode? Dance in showers of fragmented glass and china? I've been pushing for The Wild Rumpus to make our next event a fair because I want to set up a crockery smash (wisely, everyone's ignoring me on that).
Free game Dog Wolve [official site] offers me, and you, a virtual taste of wanton destruction. Slam a tape into your boom box, draw your baseball bat, and for six minutes go break some trash televisions with your dog.
That's it. You've got six minutes, a bat, a carpark full of endlessly respawning televisions, a neon dog friend, and the sounds of a Dragonette remix. It's like a big old music video, complete with text description - though some textual popups remind me of Grand Theft Auto. Good smashings. Creator Ryan Trawick says he was inspired by this fine tweet from developer Kitty Horrorshow:
make me a game that's just a parking lot full of old TVs, booze, a baseball bat, loud music, a cute friend and a million hours til morning

— мøтħer ¢røω (@kittyhorrorshow) June 7, 2015
You can download Dog Wolve for free from Itch for Windows, Mac, and Linux. Remember, as Be Your Own Pet teach us: have fun, and be safe with it; just kidding, fuck shit up!