Snow Business: Winter Voices Ep. 1 & 2 Out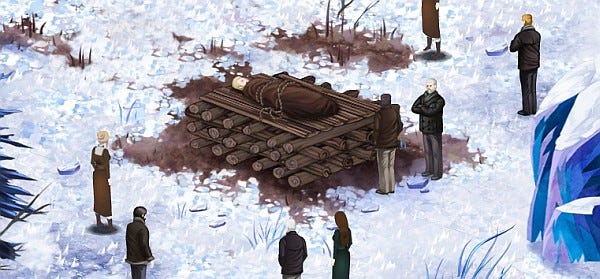 Episodes 1 and 2 of startlingly ambitious indie RPG Winter Voices have been released, though they're technically episodes 2 & 3 since episode 0, Avalanche, is a standalone purchase in itself. You can get any of the episodes from Steam or from the Winter Voices site. I reviewed Avalanche here, and despite its crippling flaws it managed to be one of my favourite indie games of 2010. I'm head over heels in love with Beyond the Pillars, devs of Winter Voices, and what they're trying to do. A video tour of the studio with lots of excitable chatter from the developers follows...

Winter Voices tells the story of a woman in a rural community trying to get over the death of her father, with all of her emotional battles taking the form of more traditional turn-based tactical battles against various physical manifestations of her misery. Like I say, ambitious. Excitingly, a patch is now out addressing some of Avalanche's more unforgiveable problems, so if you were on the fence about this game before, by all means, topple off.
Here's the link to my Wot I Think of Episode 0 again. I'll see if I can get another one done for episodes 2 and 3 later in the week.
...and here's the trailer for Episode 0: Avalanche, which I'm sure we've posted before.