Two ice creams go on a second date in Snow Cones 2
Extra sprinkles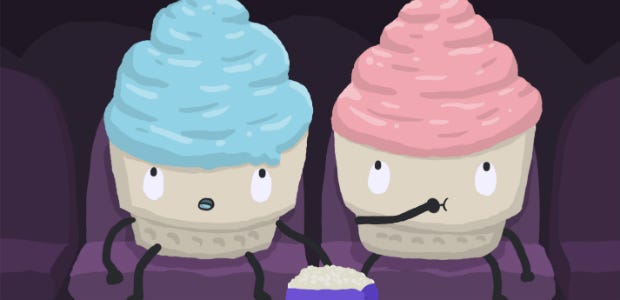 Team Lazerbeam, purveyor of fun freebies Dress To Express Dancing Success, Wrestling With Emotions and Snow Cones, have launched their first paid game: Snow Cones 2 [Itch page]. It is -- you guessed it! -- a follow-up to Snow Cones, a cute game about two ice cream cones going on a first date.
This time it's the ever-important second date, and our heroes Blue and Pink are off to the movies. Let's hope one of them knows the old yawn, stretch, and put your arm round your date-trick. It'll play like a "series of vignette games" stitched together and will be "aggressively short" – the first game was eight minutes long.
The developers insist it will be "more polished and intricate" than their previous efforts, hence the $2 price tag. You can grab it from Itch.
Brendan summed up the first Snow Cones by saying it was "cute cute cute cute cute cute cute cute". I just watched a playthrough of it and it was indeed adorable, and its art was pretty. The amount of interaction was limited to things like choosing what hair products to put on (in this case, either chocolate or strawberry sauce) and then choosing which attractions to visit in a fairground.