Sokpop's Bamboo EP: games from Bernband dev & co.
From swimming to swordfighting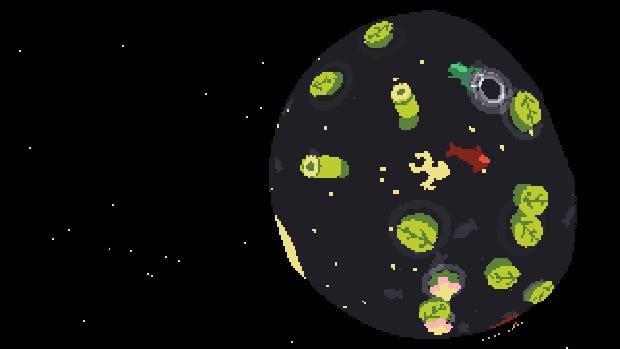 Sokpop, the Dutch collective whose members were behind such lovelies as Bernband and Lisa (the one with the nice meadow, not Lisa: The Painful RPG), have released a collection of small games. The Bamboo EP [Steam page] contains three games which involve bamboo in some way but are all quite different. They cover the three main genres of video game: swimming in ponds; swordfighting animals; and local multiplayer ballsports. That's worth three quid to me all right.
The swim 'em up is actually the title screen, a little pondmoon which has hotspots to launch games but, more importantly, lots of fish and frogs and lily leafs to brush past. Now, granted, you might be less keen on swimming in ponds, lochs, and seas than I, but to me this is what's best in life. A small but pleasant thing.
Bamboo Ball is local multiplayer dodgeball across a pretty meadow, bees buzzing around as you fling balls. Good meadow.
Lastly, Bamboo Heart is a stab-o-platformer starring a rabbit (and, unlockable, other woodland creatures) who dashes around a bamboo forest duelling other animals. It's fast, it's deadly, and it, er, has cooking. I do like that animals sheathe their swords after a second or two, because of course it's cooler if you're striking with your draw. Better iaido than just swinging wildly. I'm not actually sure how long this is but I played enough for a few boss battles and to pick up a few different swords and yes, it is a very nice bamboo forest.
A 40% launch discount brings Bamboo EP down to £2.87/3,59€/$3.59 until Thursday on Steam. This isn't a review or nothing because John chases me with a big stick if I even think about writing those, but I'm happy having paid that.