Son of Scoregasm blasts out today
A new release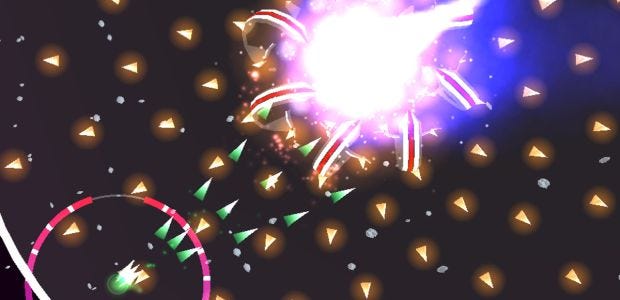 I haven't played Scoregasm, but I can describe it in one word - and that's 'crisp'. Ok, actually I also need to tell you it's a top down shooter that might not qualify as bullet hell, but at least counts as bullet limbo. Building up combos enhances your weapon and opens up new levels based on which combo targets you go for, but 'crisp' is my main takeaway from what I've seen. Your brightly coloured foes stand out against the blackness of the void behind them, and every 'zap', 'plink' and 'thunk' sounds just right.
Scoregasm's follow-up, Son of Scoregasm, is out today, and you can soak it all in via the trailer below.
Solo developer Charlie Knight calls this a "refinement of the original Scoregasm", boasting a new score mechanic and greater variety within each level. Given how your score - or at least your combo metre - effects your ship's capabilities, a new score mechanic might mix things up more than it sounds like it will at first. Knight also says that there are more routes through the game, and more endings too.
Also new is a global high-score table for each level, so get ready to compete with your friends over who can get the best Scoregasm.
You can expect more stuff to be added in the next few months: Knight says he'll post a roadmap of future features "soon".
Son of Scoregasm is available on Itch.io for $8.49 until the launch sale ends tomorrow, or Steam for £6.29/$8.99/€8.99.
You can also pick up both this one and the original in the Multiple Scoregasm bundle on Itch.io, which yes, I am mainly mentioning because of its name.