Sonic The Hedgehog was murdered and you can solve the mystery
A free visual novel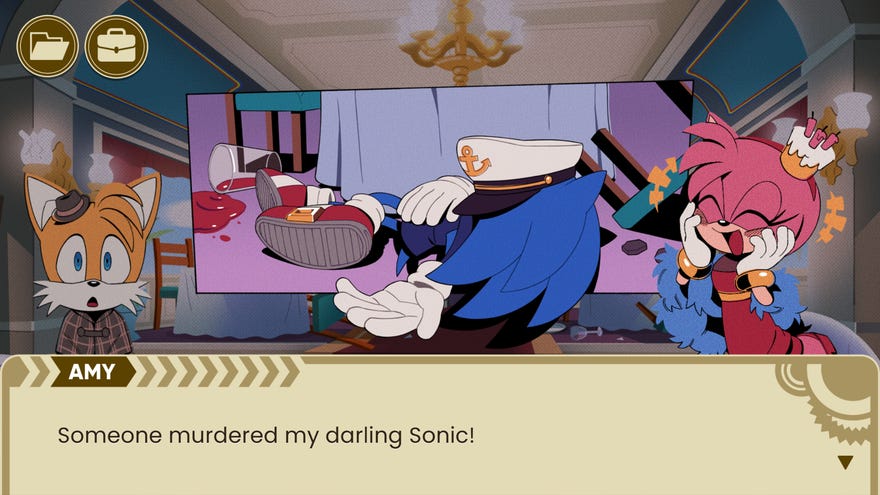 Sonic The Hedgehog has been murdered - and not by negative reviews, for a change. Instead it's the precipitating event at the beginning of The Murder Of Sonic The Hedgehog, a short, free visual novel released by Sega for April Fool's Day.
"We've heard your feedback. Yes... All of it," begins the trailer:
Set during Amy's birthday, the gang of Sonic characters including Knuckles, Tails, and Espio are taking part in a murder mystery party in which Sonic is the game's victim. "However, something feels a bit off - is this really an innocent game or is something more sinister afoot?", asks the Steam page.
It also asks whether The Murder Of Sonic The Hedgehog is "canon or headcanon", and answers by pointing out that it's not a Sonic Team game but that they "strongly believe in the power of headcanon". Which kind of makes it sound like this game's developer and publisher, Sega, have their own headcanon in which Sonic is really murdered.
Today is April Fool's day, the annual event during which all the institutions you normally trust to cut through the internet's avalanche of misinformation decide instead to lob snowballs at you. I can't complain when game developers decide to use the date as an excuse to make a daft idea into a legitimately interesting, fun and free video game, however. Also, kudos to Sega for framing the trailer as a direct response to the regular negative reviews modern Sonic games have had - most recently Sonic Frontiers, although RPS chums liked it more than most.