Soul Searching: storytelling and survival out at sea
Sunless Earthsea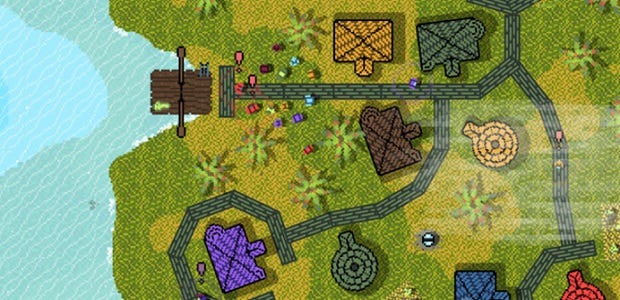 Failbetter's Sunless Sea doesn't fit neatly into a simple genre - it's a trading, storytelling, exploration game with comedy, horror and mystery elements - and Soul Searching [official site] looks like it might have many of those same traits. Described by solo developer Talha Kaya as being "inspired by Ursula Le Guin's Earthsea series and movies like Life of Pi" it has a top-down view, and sees your customised character leaving home, alone on a boat, and encountering people and animals out in the islands of a fantasy world. It's just arrived on Greenlight and I'm mighty intrigued.
It's not all about fishing and chatting to people in the village inn, as you can see in the trailer there. Dragons and ghosts and...melancholy. Yes, there's going to be quite a bit of melancholy in there:
"...Soul Searching is about growing up, leaving your homeland, standing on your feet. It deals with themes like isolation, searching for meaning and direction, leading to depression and suicidal thoughts."
Melancholy tempered by hope, I reckon, though that may in itself be a sign of my own hopeful nature. Whatever the case, I should say that I initially found the graphics off-putting, but once I saw them in motion I was almost immediately converted. There's something wonderful, to me, about the use of a style like this to recreate scenes and objects that are recognisable despite the abstraction or apparent simplicity of the art. Seeing the variety of living spaces that can be recreated makes it seem like almost any kind of dwelling is possible, and that makes the world seem richer and more expansive than a high fidelity, ultra-realistic equivalent might be.
As well as being a game about seeking stories, Soul Searching has survival elements. You can see that, I assume, in the fishing and the weather effects. And maybe the dragon might require some survival skills as well. You can also see some different boat layouts, and you can customise your boat as well as buying new ones.
It looks like what might happen if The Legend of Zelda: Wind Waker had been put through a series of filters designed to make it appeal directly to me. Kaya plans to release Soul Searching in 2017 and you can vote for Soul Searching on Greenlight now if you're as won over by it as I am, and I'd also suggest checking out Kaya's website, which has a brilliant "What I'm Playing" category that contains more interesting projects than you could shake a mainmast at.