Spintires: MudRunner's dirty American expansion is out today
Filthy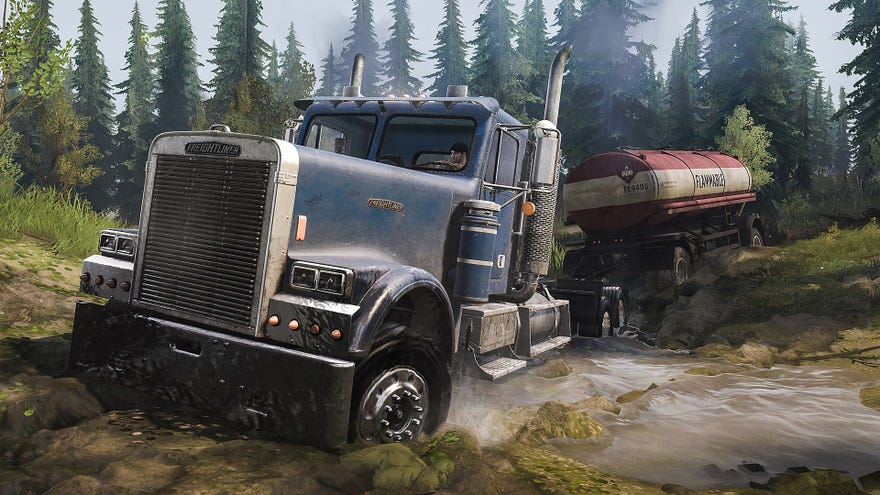 Spintires: MudRunner is Euro Truck Simulator for people who want to get caked in mud while they scream at the ground, demanding that it release their hefty vehicle. It's a filthy game of churning up muck, recklessly charging into rivers and trying to get up slippery slopes while laden with lumber. It's brilliant. It's also off to America, which I believe is quite muddy, in the American Wild expansion. It's out today, accompanied by an extremely dirty launch trailer.
Yep, that sure is a lot of mud. But this is American mud, which presumably comes with all sorts of special American challenges that can only be overcome with a robust American vehicle. They're all beefy trucks and 4X4s from Ford and Chevrolet, like the Ford F-150 and the Chevrolet K5 Blazer. Apparently, they're "well-known", but I've not driven since 2002, so I'm not exactly au fait.
American Wilds comes with two sandbox maps, Mount Logmore and Grizzly Creek (they're a wee bit on the nose), based on the "roughest terrain in the United States." There's also a pair of new challenges that let you muck around with cranes and flatbed trucks. Good, honest, muddy work.
The expansion will be popping into existence this evening on Steam for £7.99/$9.99.