Nihilistically-Named 'Free' Starcraft LOTV Prologue Is Out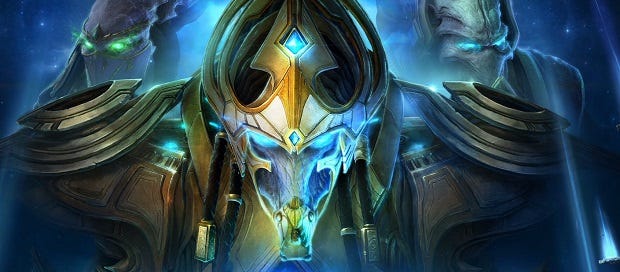 'Legacy Of the Void', 'Whispers Of Oblivion'. Man, whoever's in charge of names at Blizzard needs to go and lie on the grass in the sunshine for a while, otherwise we're going to end up with 'Warcraft IV: I Just Feel So... Empty, Y'know?' The aforementioned Mutterings Of Unconsciousness is the name given to a 'prologue' for upcoming Starcraft II [official site] expansion Inheritance Of Nothingness, which is now available for 'free' to anyone who pre-orders the add-on.
Whispers of Oblivion comprises three singleplayer missions starring Protoss hero Zeratul, with Legacy of the Void as a whole focussing on the mystic aliens as the many and various shouting matches of Starcraft 1 & 2 are in theory all brought to end.
If you pre-order direct from Battle.net or from 'select retailers' you'll also get into Legacy of the Void's multiplayer beta (which we thunked thoughts about here). You'll also get an as-yet-undisclosed Starcraft character to use in Blizzard's moba Heroes of the Storm. So they're really pushing those downpayments, eh?
From what I hear, the prologue is short but a giggle, but as always, pre-ordering means paying for something that may or may not be what you were hoping for, so due caution is advised. Heed the lessons of the Bat. You can always just wait, as the prologue will be released free later.
Oh, and also first Starcraft II expansion Heart of the Swarm has now been made standalone, so if you want a Zerg-focused experience but couldn't be bothered with base game Wings of Liberty, you can go straight to that now.