Station To Station: Astrobase Command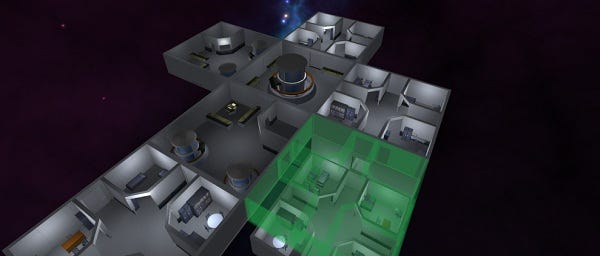 Craig sent me a link to Astrobase Command earlier today, wisely recognising it as the sort of thing that would cheer me on a dank and earthbound Thursday (I spend Wednesdays on the moon). Unfortunately, the link appeared in a tiny chat window, running over two lines, and momentarily creating the thrilling promise of a game called Astrobastard Commander. I want to play that game. Thankfully, Astrobase Commander looks great as well and should present plenty of chances to behave like a terrible space-bastard. It's "a sci-fi sandbox space station-building game with roguelike elements and AI-generated stories". I'm thinking Redshirt, Space Station 13 and more conventional base-building all mixed into a potent brew, or perhaps compacted into a nutritious pill.
Coming from a team of three based in Montreal, Astrobase sounds intensely ambitious but it also appears to have a focused design. Players create a race, deciding the body type and traits, as well as tweaking stats, including 'social' and 'variance'. Then it's onto station-building, with basic modules available from the start and more advanced tech unlocking over time. Then the characters arrive and the stories begin.
We're taking a page from tabletop RPGs on how stories diverge based on character skills. Will diplomatic missions result in making friends or enemies? Will adventures on unexplored alien planets yield artifacts or casualties? Will choosing an inexperienced but very intelligent recruit for a power plant job give you more power or a fiery-meltdown-of-epic-proportions? Anticipating and matching the needs of a job or mission team to the skills of your crew is critical to your success.
The website contains plenty of details, including some possible scenarios. Many of them are drawn from existing future-fiction:
OH MY GOD SOMEONE BROUGHT BACK AN ALIEN EGG THAT SURVIVED DECONTAMINATION AND IT HATCHED IN THE CREW QUARTERS. NOW THERE ARE ALIENS RUNNING AROUND THE STATION AND ONE JUST CHEWED THROUGH MAIN ENGINEERING AND THERE ARE FIRES AND PLASMA LEAKING EVERYWHERE AHH WHERE ARE THE SECURITY TEAMS!

Lesson Learned: It's a dangerous universe out there. Be prepared and Don't Panic!