Hack The Planet: Steam Cyberpunk Sale
Whip out your credstick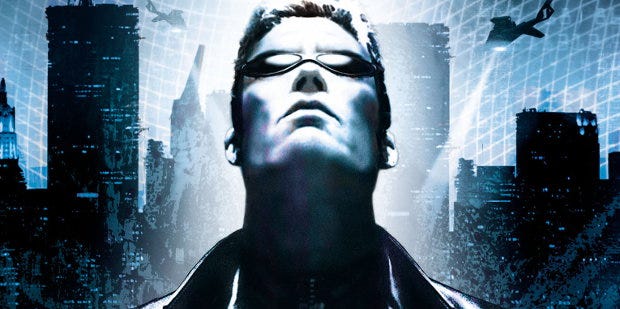 Allow me to establish my cyberpunk credentials: I live in a dystopian megacity block, have blue hair, own two pairs of mirror shades, romanticise being a wreck, and work on the 'net. Trust me when I say Steam's cyberpunk sale is pretty great (though not wholly cyberpunk).
30-odd games brimming with hacking, cybernetic implants, megacities, conspiracies, dystopias, neon lighting, and The Man are going cheap. You'll find, for example, classics like System Shock 2 and Deus Ex for pocket change, and good prices on newer cyber 'em ups like Gemini Rue, Jazzpunk, Far Cry 3: Blood Dragon, and Transistor.
You don't need me to tell you SS2 or Deus Ex is great, mind, so here's one you might not consider: E.Y.E: Divine Cybermancy. It's a weird, often-baffling, wonky, and hugely ambitious FPS-RPG, and only £0.69 in this sale. The folks behind it are working on Space Hulk: Deathwing, and E.Y.E.'s weirdness gives me hope that Deathwing will be, at the very least, interesting.
System Shock 2 (£1.74) and Deus Ex (£0.99) are great, mind, and I highly recommend them. What else? I hear very good things about Jazzpunk (£5.49) but haven't got around to it yet. Same goes for Transistor (£5.09). Bloodnet (£2.49) is the only adventure game about cyberpunk vampires and hacking that I know of. Oh, pff, I'm only going to end up listing half the games, so let's stop here.
The sale will run until 5pm UK time (10am Pacific) on Friday.