Steam In Your Eyes: Big Picture Now For VR Headsets
Big Picture for small screens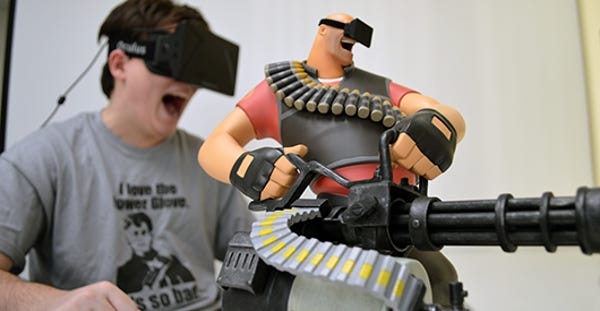 Years of only seeing the "VR" suffix in fiction has made it feel futuristic and unreal, but now it's popping up everywhere. Valve have just quietly slipped support for virtual reality into Steam, letting you use their Big Picture interface while wearing a headset. It's called SteamVR of course, and it's in beta.

Big Picture mode was originally created for use with television sets, and turns the greys and greens of Steam's interface into electric blues and chunky buttons. The VR version places the interface on a curve screen that hovers in front of your viewpoint, so you can clearly see all of it between games.
I used an Oculus Rift for a period of months, and needing to change or restart games always meant removing the headset, as neither Windows or Steam supported the Rift's unusual resolution or shape. I'd welcome anything that means I'm not being blinded by a glowing desktop and mouse pointer every time I quit out of Euro Truck Simulator 2.
The beta was launched ahead of Steam Dev Days, a two-day conference hosted by Valve which is due to start tomorrow. Valve are expected to show off their own VR prototype to the invited developers, as an example of where the tech will be in the near future. Oculus Rift's Palmer Luckey is also expected to be there to give a presentation about how developers might port their games to their system.
If you want to try the SteamVR beta for yourself, a Reddit user was kind enough to write some detailed instructions:
Go to "Library", "Tools", and download SteamVR
Opt into SteamVR Beta. Make sure it's up-to-date
Set Steam to start in Big Picture mode.
Create a shortcut to Steam and add -vr to the launch options.
IMPORTANT: Set the Rift as an extended monitor and make sure it's the secondary.
Start Steam using your modified shortcut.
If you have any problems with it - and you might, since it's an early beta - then you can easily turn it off again and revert to your normal UI.