Stop a 70s serial killer in Dead Secret Circle
Look out for the Laughing Man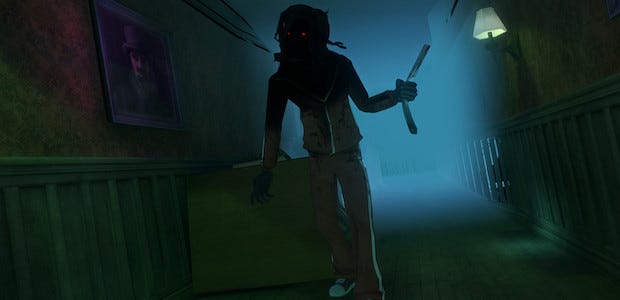 This week, Robot Invader released the sequel to Dead Secret, which was one of the first VR horror-mystery titles I ever got to experience. I enjoyed that game's puzzles and general otherworldy vibe -- not to mention its Kansas based setting. (That's where I'm from. There's a lot of murders there. It felt good to solve one.) Dead Secret Circle builds on the successes of its predecessor by expanding the lore of the universe, but also leaning-in hard on a more stylized, bizarro look, where everything has neon outlines and the unspeakable evils seem more... unspeakabler.
Five years after the events of Dead Secret, Patricia Gable's investigation of a serial killer leads her to a condemned apartment building in East Chicago. There she finds people living on the margins of society, too poor or too stubborn to leave, each with something to hide. The building vibrates with secrets. While trying to solve the mystery by collecting and connecting clues, Patricia will be constantly chased by The Laughing Man, who you can run or hide from but you can't fight back.
There are seven suspects in this haunted house that you'll need to interview, and while the whodunnit needs to be slowly pieced together, the addition of a Nemesis-like hunter to the game seems like a great idea to keep the pace up.
You can grab Dead Secret Circle at 10% off until May 8th, and there's a bundle with the original Dead Secret to get both titles at 33% off, if you want to take a cool Kansas Murder Trip before starting the Chicago adventure.
Check out the spooktacular trailer below. IF YOU DARE! (You probably dare. And you should watch it. It's quite fun.)