Sublevel Zero Is Procedurally-Generated Descent
Out October 8th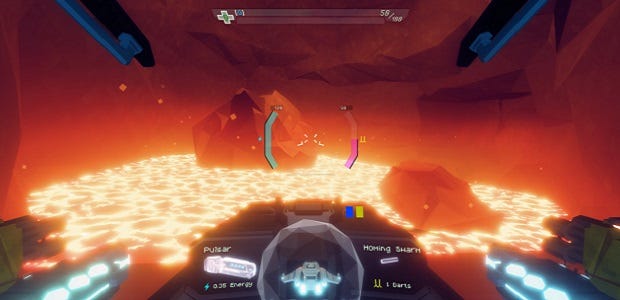 I've only spent around an hour playing Sublevel Zero [official site] but that's enough for me to predict that it might become one of my favourite games released in these final months of 2015. It's the Descent spiritual successor that I assumed I'd be playing within a fortnight of the great Kickstarter revival period, offering precise combat with six degrees of freedom. The controls are tight, it looks lovely and the procedural levels appear to use finely tuned generation tools. A new trailer informs us that it'll be out on October 8th, for Windows and Mac, with Linux to follow shortly.
Here's the word from developers Sigtrap:
"Sublevel Zero is a first-person, six-degree-of-freedom roguelike shooter set in a universe where reality is falling apart. Take the helms of a lone gunship and prepare to navigate your way through a dizzying labyrinth of procedurally-generated 3D levels, puzzles and raging enemies to source valuable ancient artefacts. Descend into a vast underground facility in your mission to loot and craft ancient technology which holds the key to your clan's survival!

"Exterminate enemy fighters, annihilate surface foes and wipe out menacing turrets- you never know what's lurking around the corner! Fly and rotate in every direction while attacking from all angles. The emphasis is on survival and ammunition is scarce so you will need to strengthen your tactics, adaptability and skill in order to survive enemy encounters. Make every shot count, as there are no saves!"
I wasn't convinced that procedural levels were the right way to go but given that my memories of Descent's maps are like my memories of a tangled ball of wool, I'm not sure that the deliberate handcrafted approach is necessary. Far better if the game can build labyrinths of unexpected danger and delight, which enables the permadeath approach to function without forcing replays of the same opening levels over and over again.
My relationship with Descent is odd. I loved it when I first played it, right around the time of release, but I've never felt particularly tempted to go back. Sublevel Zero makes me wish I'd never left.