Ray Of Light: Sunset Gets A Release Date
Tidy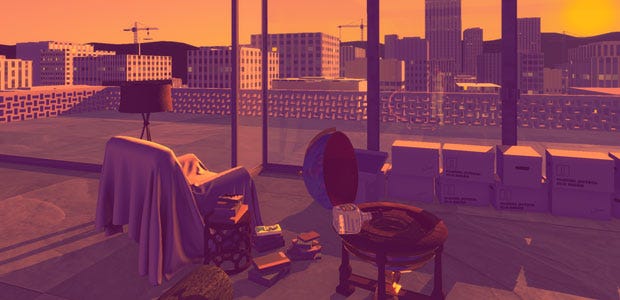 Peering through telescopes is one of those little in-game activities I enjoy a disproportionate amount; peeking through the viewfinder and switching to a porthole framing previously distant objects and people. The telescope peeking in Sunset [official site] was infused with meaning when I played a preview build and I hope there's more to come when the game releases in full on 21 May.
Sunset is Tale of Tales' first-person political housekeeper-em-up. You play as Angela Burnes, a housekeeper for a wealthy man named Gabriel Ortega in the fictional South American city of San Bavon. Every week she visits his apartment for an hour before sunset, performing little tasks and interacting with his living space while he is absent.
It's these little interactions which build the game and the relationship between Burnes and Ortega. You can flirt via chess pieces or react to friendly post-it notes on artworks, then watch Ortega's own reaction manifest via other objects and notes and effects in the apartment.
The revolution which is playing out in the city as you keep Ortega's house also creeps onto a more personal level, with Angela's activism being referred to in the build I played and Ortega's own involvement being a subject of interest and exploration.
This is what happened with the telescope:
"On my second visit Ortega required me to grease his telescope. On one playthrough I spent my second visit pointedly aligning said telescope so Ortega would see the Big Dipper when he looked through, while notes around the house had him wondering what it would be like to look up and see me on the second floor balcony."
That was a far more satisfying telescope experience than the one I had in Grand Theft Auto V the other day. That was just "looking at some tedious high rise building textures". I was hoping to do some terribly immoral staring at people going about their private business. Surely one of those sixty-two gigabytes of download could have been peeping tom files or sexy stargazing? Is that too much to ask?
What was I talking about? Oh. yes. Sunset. 21 May.