Super Dario World: In The Kingdom
Doom meets Dario Argento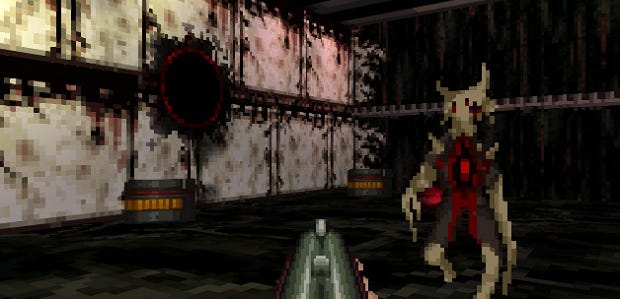 In The Kingdom is an FPS in the style of Doom and Rise of the Triad. Presumably that means there will be lots of enemies on screen, lots of blood and bits spilling out of those enemies, and a decent selection of weapons to collect. It's already out and available to buy for $5 (that's a minimum - pay what you want) and it's among the rare games to catch my attention because of a mysterious trailer rather than an actual description. It seems to have emerged from a similar blasphemous font as that which spawned the weird and wonderful Depths of Fear: Knossos. Set in the 'hellish ruins of a forgotten castle fortress', it's filtered through a lens of old-school giallo horror that appeals to my less sensitive side.
I found the voiceover offputting at first but I was on board by the end of the trailer. It'd be easy to look at the art style as an inefficient nostalgia-tickler but I think it's a fine way to portray the kind of off-key horror that In The Kingdom is cuddling up to.
More than anything else, after a week of logging and managing space empires, I quite fancy an objective as simple as 'enter castle, kill monsters'.