Survive Hordes Of Robots In VR Gunfighter Raw Data
Cyber Ninjas and Gun Clerics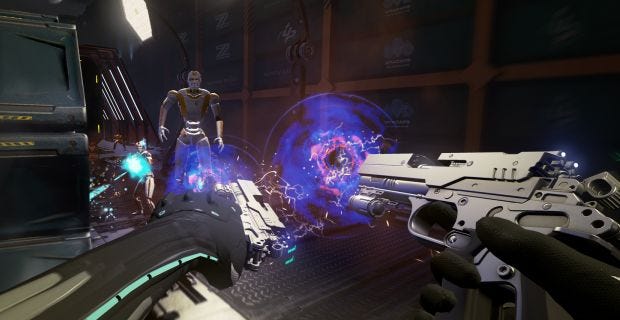 VR games are clogging up Steam's Early Access list like cholesterol these days. Well, here comes another one. Raw Data [official site] is a survival-mode shooter that pits you (and a friend if you've got one) against wave after wave of malevolent robots. Using a laser katana to deflect their shots and your own selection of firearms to shoot back, you have to survive for as long as it takes to download one "geopbyte" of data from Eden Corp's mainframes. I hope you're using a good USB stick. Come see the trailer.
Developers Survios have been showing off a playable demo of this to journos and other folks for a few months, letting them play with the swords, pistols, bows and arrows and shotguns. But now that it's out on Early Access, any pleb with the £689.99 required to buy a HTC Vive - and another £23.99 to buy Raw Data itself - and can dive straight in.
There are two classes to play as - Cyber Ninja or Gun Cleric. I'll say that second one again. GUN CLERIC. Each class has its own distinct weapons and abilities: bullet time, telekinesis, sword-throwing, levitation. Between waves you hack into Eden's database to earn upgrades, including the ability to install defensive turrets, erect barricades and plant other traps. Meanwhile, the enemy swarms become more numerous and powerful. It's up to you (and your equally wealthy friend) to stand in the middle of the room and fight them off.
The co-op is probably the most interesting thing about it. It's available online, and the game supposedly encourages communication through body language , even allowing you to high-five your partner-in-arms. But it also presents some problems. How many of us have a friend with a Vive, let alone own one ourselves? Then again, maybe this is the game that spurs you to finally invest. What do you think? Wouldn't you like to slice up robots in virtual reality with a pal? Maybe you'd be happy to fight it out solo. Send us your reckons.