Tax Heaven 3000 launches a week early and its Collector's Edition has already sold out
At least we still have a free Wattpad story to enjoy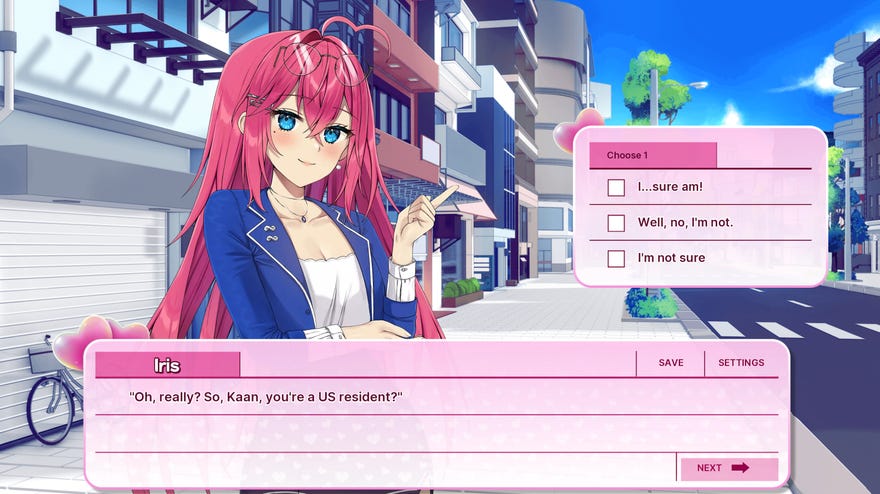 Tax Heaven 3000 changed its release date a couple of times, moving from a March 31st date that was suspiciously close to April Fools' Day, to April 4th after its removal from Steam, to yesterday, March 27th. For the uninitiated, Tax Heaven 3000 is the anime dating sim that claims to do your taxes and asks you for identifying info such as your email and Social Security Number. It's likely a joke app, partly because of its waifu Iris (like, the IRS) and partly because it's from MSCHF, the art collective behind Lil Nas X's Satan Shoes and other viral drops.
You can download Tax Heaven 3000 on Itch.io for free, but there was also a $90 Collector's Edition that included a boxed version of the game complete with a disk and an instruction manual. It also came with a lifesize Iris body pillow, but alas, all good things must come to an end and the edition is sadly sold out.
Even though the Collector's Edition is sold out, I'd still recommend snooping around Tax Heaven's official website. Clicking on the X-rated patch button - for research purposes, of course - takes you to Wattpad, the free website that lets you read and publish stories. I hear it's also very popular with One Direction fanfic writers. I didn't read all of the Tax Heaven 3000 story, but it ends with this lovely passage: "Somewhere between the serendipity of life and the inevitable cycle of taxes, I know we'll find each other again and again."
The "Manifesto" section of the website also has some fighting words for "predatory, parasitic" corporate tax services that "deliberately complicate the tax filing process in order to make it unnavigable by ordinary people." As a counter, MSCHF created "free software instead built on parasocial desire for intimacy and benign horniness!"
I briefly jumped into Tax Heaven 3000 - using a fake SSN and phone number - and it was surprisingly cute. The dating sim sticks to the bit throughout - it's a game about charming a tax-obsessed girl, and the joke persists the whole time. Her way of asking if you have kids, for example, is to ask if you have any tax dependants. She's also aggressively anti-cryptocurrency, calling it a pyramid scheme. Cool gal.
There are some surprisingly funny scenes in here, too. One date has Iris asking you to fix her photocopier, before you miraculously learn how to code. Although, Iris won't date you if you're not a US citizen, which sounds kind of xenophobic, but I'm pretty sure it's just because she loves taxes that much. There are some subtle hints at robots (maybe?) and an evil corporation (naturally), but Tax Heaven 3000 generally seems like a sweet, spoofy visual novel.
If you had fun filing taxes with Iris, you can check out our picks for the best visual novels on PC.