Telos Re-thinks The Competitive FPS, Adds Spidermechs
Also zero-g and grappling hooks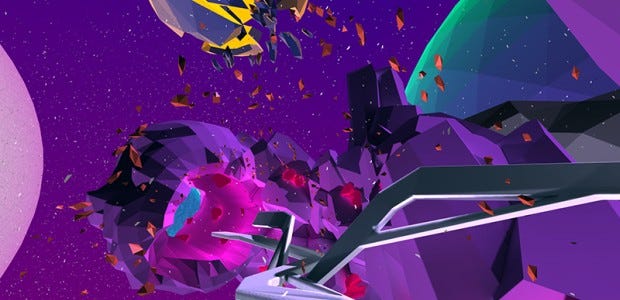 I love the purity of the fast-paced deathmatch shooter, and I'll drunkenly slam my fists down on any pub table in the country while shouting about the beauty of Quake 3: Arena. I'm a little sad though that so few games are trying to move that style of game in new directions.
I'm consequently excited by Telos, an in-development fast-paced first-person shooter about two-storey tall spidermechs with grappling hooks fighting in partially zero-g levels built out of abstract, purple shapes. Video below.
Developers! Make developer diaries! Whether it's reading Kickstarter updates, following Overgrowth-style video diaries, or browsing old .plan updates for Cliff Bleszinski's opinion of Buffy episodes, there's little better than reading or listening to a designer talk through their thought process.
Telos is being made by Overpowered Games, aka Justin Pierce, who has previously only released mobile games. Over on the Telos devblog, he explains that those were meant "to fund what I really wanted to make, but I didn't find the kind of success I needed for that to happen." Telos is what he really wants to make. It's also what I really want him to make, so this is working out well already.
Follow the Telos blog for updates as they happen.