Tetris + Lemmings = MouseCraft, Apparently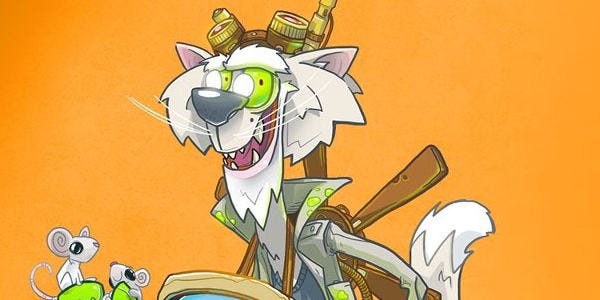 The great thing about games is one day you're writing about blowing up zombies and the next it's all aboard the crazy cat scientist train to a land of tiny cuboids and tinier mice. MouseCraft definitely fulfills today's "mad indie game" quotient with a unique blend of puzzle platforming, wonderful pictures, and possibly the greatest player perspective of all time. Alpha launch trailer and details on your route to the cheese beyond the mousetrap.
I really cannot get over the brilliant camera angle and giant steampunk cat which seems to have taken a glorious spot as mascot on their Greenlight page and elsewhere. Honestly, you could probably sell me out of date milk from an empty crisp bag with that guy, but if you're more discerning, here's a feature list:
Experience a remix of two classic gameplay mechanics: Pile up Tetromino bricks to create a safe path for as many mice as possible.
Discover an epic tale of a crazy cat scientist who is striving to unlock the potential of a mysterious, mice-powered machine.
Defeat obstacles, overcome gaps and gather collectibles by using different types of blocks, be it jelly, explosive, or crumbling.
Prove your stacking skills by playing the game in a fast-paced Arcade mode or a mind-challenging Puzzle mode.
Get involved by creating your own maps and show off your creativity by sharing these with the rest of the community.
If the level-editing's your bag, here's the explanation vid complete with sweet background beat. The Alpha's available for simply signing up to their beta program and the final game can be preordered for release later this year in a pay what you want deal, complete with charming panda graphic based on your contribution. Really though, all you need to think about is what that cat is worth.