Make the desert bloom in That Blooming Feeling
Sing the end of the world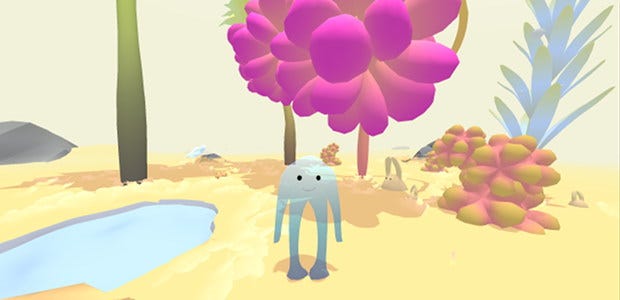 It is the end of E3 week and I am playing That Blooming Feeling [Itch page], a game starring a water golem who lives in a desert oasis and can help seeds and plants grow by bursting. It is delightful. I've enjoyed planning my planting, rolling around as a drop, mucking about with the other creatures who lives nearby, puzzling over mysteries like what appears to be a dragon rising in distant fog, and watching the desert bloom.
Also, I have been singing. Sometimes the randomised pitch-shifting and distortion makes it sound like I'm singing the end of the world. After this long week, it feels right.
That Blooming Feeling is pay-what-you-want for Windows and Mac on Itch. It's made by Tots' Team: Jack Campbell, Michala Braker, Thomas Newlands, Mariah, Murray Campbell, and John Groot.
See y'all for E3 2018!