The Ball: Guns, Dinosaurs, Great Apes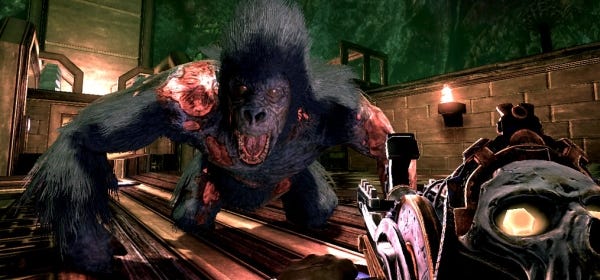 Unreal Engine mod-done-good The Ball is finally due for its big-boy release, after months of cooing and dribbling about how its mental puzzle-carnage could evolve given time and money. The answer's below, in video form. In word form: a sort of omni-geek power fantasy.
Dramatic music. Enormous monkeys. Dinosaurs. Blood. So much blood. And that's even before you factor in the titular Ball, a titanic death-machine that's both weapon and puzzle.
While a completely different thing in crucial ways, it somehow evokes the singular psychopathy that the Unreal Tournament games once plumbed before the cold and spiky UT3 put a stop to all that.
The Ball's out a week today, on all your favourite digi-shops and some of those dusty high street ones too. I suspect most of us will want to give it a shot, eh?