Watch 10 Minutes Of Telltale-like The Descendant
Post-apocalyptic investigation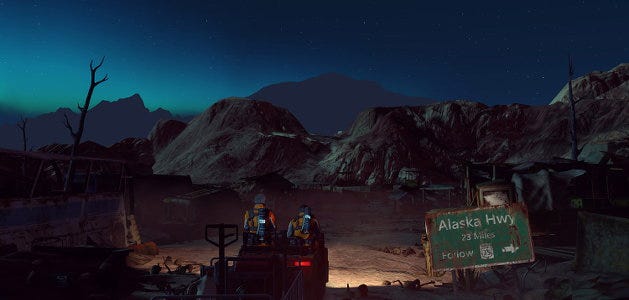 The Descendant [official site] is a Telltale-like (is that a genre yet?) post-apocalyptic narrative game. This time around it's climate change that has brought about chaos and eventually a nuclear holocaust. Only a chosen few survived, hibernated in vaults for centuries.
When the time came to wake up and rebuild, one of these vaults, Ark-01, remained shut, and throughout the 5 episodes players are going to find out about the conspiracy at the heart of it all (no, not climate change - hohoho.) Developers Gaming Corps have released a video showing the first 10 minutes of the game. Grab some popcorn and enter the vault with me after the break.
The Descendant will mix branching dialogues, multiple endings and QTEs with a heavier focus on point-and-click style puzzles. The plot will follow two timelines: in the present we'll take control of Donnie, a vault dweller trying to find out what happened to Ark-01; while in the past we'll play as Mia, a janitor working at Ark-01 to keep people alive just when mysterious thing happened.
Let's watch the video then. More than half of the footage is exposition and cutscenes setting up the story, and it's only at 7:00 that the player really starts controlling their character.
0:25 - The voice acting feels a bit off, or at least at odds with the stiffness of the characters.
1:25 - I don't blame them for doing this, but it's always a little weird when footage from real-world wars and riots is stripped of its context and used in fictional works. Makes me feel all Baudrillard inside.
3:20 - BAD GUY ESTABLISHED
6:45 - BAD GUY BE MEAN
7:10 - Can't you please walk faster?
7:15 - No, really, could you please walk faster?
7:20 - OH MY GOD PLEASE WALK FASTER THIS IS GOING TO TAKE AGES.
9:32 - Bad guy continues being mean for no reason.
The first episode of The Descendant will be released on March 24th, with the other 4 coming throughout 2016. It'll be available on Steam, or directly from the developer, where the season pass will set you back $14.99. (which is about £10.39)