The Flare Path: No Discernible Theme
Sim and wargaming verbiage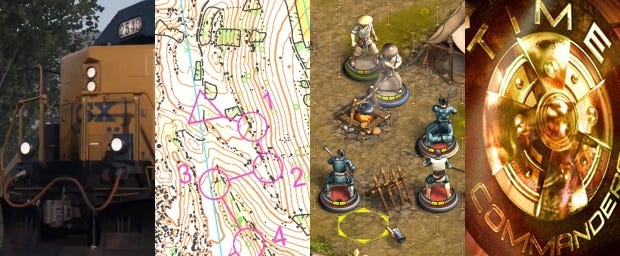 This week I've mostly been...
Sulkily watching other people play the Train Sim World beta.
Scampering around The Kingdom of Spiderwebs clutching a map and compass.
Skirmishing with handsome 25mm samurai.
And improving Time Commanders in my head.
For further details inspect the words milling about below the break like truculent prisoners of war at an early morning roll call.
Failing the Train Sim World beta initiative test (It turns out I didn't in fact own all five TS2017 routes necessary to participate in Dovetail's annoyingly inflexible/brief sneak-preview initiative) means I've been forced to forum scour for the following TSW 'impressions'. The next three paragraphs are pure Essence of Messageboard. If you've first-hand experience of the sim in question, and disagree with any of my crowd-sourced conclusions, do set the record straight via the comments section.
Sifting the early forum feedback, it's not hard to find praise for TSW's Unreal Engine-powered visuals. What's worrying though, is how much of that enthusiasm for the pretty* Allegheny Mountain scenery, sophisticated lighting, and fetching loco cabs is qualified by framerate concern. If DTG don't optimise energetically over the coming two months, they may find they have hundreds (thousands?) of disgruntled customers on their hands come February.
*though distant features are too blurry for some
Back in October the Chathamites were telling all and sundry that, thanks to their new physics engine 'SimuGraph', "trains are behaving very closely to the real thing. As close as we've ever got". In the light of boasts like these, it's more than a little surprising to read that the beta's SD40s are currently strangely sluggish when light and ludicrously muscular when loaded. Miraculous braking abilities have been observed too. While I'm still a SimuGraph believer, I can't pretend that major issues like these so close to release aren't confidence shaking.
As a frequent user of Train Simulator's free camera, I know I'm going to enjoy wandering about in yards and clambering about on motive power courtesy of TSW's first-person mode. Some beta guinea pigs, footsore after numerous points changing trips and coupling/uncoupling treks, are less enamoured. The good news for these incorrigible cab potatoes, is that many more hotkeys are on the way. The Sand Patch Grade-focused release version - 'CSX Heavy Haul' - won't force you to leave the footplate to set paths, attach rolling stock, refuel and so on.
Is DTG's TSW team sufficiently large and skilled to rasp away the sim's numerous rough edges by February? I have my doubts, and consequently am more than willing to add my voice to the growing chorus calling for an extension of the beta period, and, if necessary, a revised release schedule.
* * * * *
If the path-you-took line on my last Virtual-O debrief map had been a boot lace, I'd have reached for a knife rather than attempted to untangle it. This Early Access orienteering sim is deceptively simple (use a map and compass to visit a series of control points as quickly as possible) but has a wonderful knack for turning sloppy map reading and poor route selection into superfluous footsteps and searching glances.
Though it only comes with a couple of sceneries at the moment – the Czech 'Lada Valley' and Slovak 'Kingdom of Spiderwebs' (both real places) – a bundled course editor and integrated community course downloader, means there's plenty of unique challenges available.
Robust enough, thanks to authentic cartography and credible terrain-effected movement rates, to serve as a training tool for practising orienteers, and sufficiently novel and picturesque to hold its own as a spirit-lifting first-person puzzle game in the wider entertainment market, the only thing likely to prevent Virtual-O from attracting hordes of casual forest threaders and rock hoppers is the current price. In today's super-competitive climate, £35 is a 'TRESPASSERS WILL BE PROSECUTED' sign festooned with dead crows.
* * * * *
My two favourite strategy games of 2016 both sport samurai. Hungry for a hat-trick, I installed the £5 Warbands: Bushido a couple of days ago.
An Early Access hex wargame focussed on low-headcount Sengoku-period rumbles, WB has the feel of a tabletop pursuit. On compact arenas regularly invaded by dice and tactical cards, players choreograph brief but colourful battles involving lovely hand-painted miniature warriors.
Scraps seldom last longer than ten minutes (Most are over within five) yet are packed with interesting choices and plan-shredding twists. Learning the basics of movement and combat takes no time at all, and by the end of your first evening you should be starting to craft decks and employ cards with confidence.
Hmm, I think this is the moment for me to use an 'Enraged' card on my Katana Ji-samurai, and dazzle my opponent's bowman with a 'Blinded by Sunlight' card. I see my frail Heimin will be the next unit to activate. I'll move him up behind my bulky Renegade to reduce the chance of an arrow hit.
Yes, there are spells when Lady Luck seems to have it in for in you, but I usually come away from sessions satisfied that the better tactician won.
Right now the game is entirely multiplayer focussed, victories earning the various currencies necessary to upgrade and enlarge your bands, buy card booster packs and new miniatures. By the end of January, a 40-mission singleplayer campaign should be in place. Fingers-crossed Red Unit Studios' story spinners and AI coders are as talented as their rule-smiths and artists.
* * * * *
Was it just me or was the recreation of the Battle of Zama that launched the new series of Time Commanders bally hard to follow at times?
I liked most of what I saw and heard on Monday night: the new two-team confrontational format, Gregg Wallace's unfeigned ebullience, Mike and Lynette's historical/tactical insights, the weapon explanations from the 'field team' (who, having apparently mislaid their field, were forced to jab and hurl and slash in a rather unsympathetic equestrian centre). What disappointed me a tad was all the unhelpful long-distance views of the unfolding mayhem.
I was waiting for Mike and Lynette to start daubing illustrative Piero-style arrows and circles onto the scenes in the manner of TV sports pundits, or for some thoughtful Creative Assembly 'operator' to restore unit icons so I could decipher the confusing welter of minuscule warriors on my screen. Yes, there were some half-hearted attempts to describe what was going on, but with constantly changing camera angles and no obvious topographical features to use as reference points (the shots above and below are from a warm-up skirmish), the describers, like the Scottish wrestlers orchestrating the Carthaginians, were always fighting a losing battle.
The ridges that dominate the Waterloo and Châlons battlefields should make the final two episodes of this pitifully short series a little easier to follow. We'll see.
* * * * *