Train Sim World pulls choo 'em up into Unreal Engine
Digital leaves on the line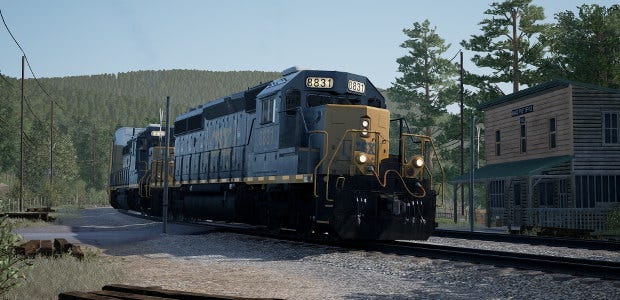 The makers of Train Simulator are riding the rails in Unreal Engine 4 for the first time, having finally made the long-promised switch from their own janky engine with the release of Train Sim World: CSX Heavy Haul [official site] last week. It certainly looks prettier than old Train Sim, at least. While Train Sim's many DLC add-ons cover thousands of miles and scenarios by now (even helping Halloween monsters in a spin-off), Train Sim World is starting with hauling cargo on the USA's 100 mile-ish Sand Patch Grade. It seems to suffer from technical leaves on the line, mind.
First, look at this pretty train line:
Then, go read some of the player reviews griping about terrible performance even with monster PCs. Some seem dissatisfied with its train physics too. Given that the two things to do are look around and drive trains, those are big problems.
Perhaps this can be fixed. This is the first Unreal Engine 4 journey, and if Train Simulator is any indicator Dovetail may be working on this for years to come. They say they're collecting data on performance problems and, while they don't have a timeline for fixes, they are "are absolutely looking to make updates". A test build is already out with fixes for VR mode and non-QWERTY keyboards.
Anyway. If you want to chance it, here's what Dovetail say you'll get:
"You've been invited to work for CSX Transportation as a railroad engineer delivering important cargo on tight schedules. With six challenging scenarios and many places to explore including Rockwood Mine, Sand Patch Summit and Cumberland Yard, your skill, focus and endurance will be tested to the limit.

"Experience a full 'day-in-the-life', with the brand new Service Mode, which features the recreation of a 24-hour timetable based on real-world operations. No two days are the same. Hop on and off a range of services as they carry out their duties. Take control or ride along, the choice is yours."
Train Sim World: CSX Heavy Haul is £24.99/29,99€/$39.99 on Steam.