The Foxer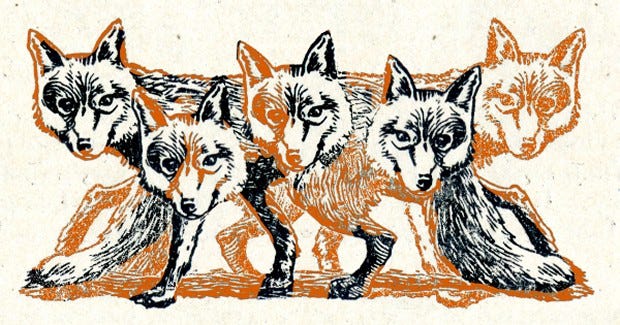 I regret to report that Roman's very sensible left-hand traffic pattern rules are being ignored by many visitors to the Annexe's new bird table. Sparrows are the worst offenders, arriving from any direction they fancy whenever they please. It's only a matter of time before there's a mid-air collision, or a scruffy sky urchin, shortcutting to the table from the bronze bust of Donald Featherstone, winds up clamped between the jaws of Swiftsure, the office mouser.
Last week's missing vowels foxer - '25 Things You Might Find In A Desert'
1. DTPL M (DATE PALM) – iainl
2. JRB (JERBOA) – AFKAMC
3. SNCM PSS (SUN COMPASS) – Cooper
4. TS KNRDR (TUSKEN RAIDER) – Cooper
5. KNGCL N (KING CLONE) – unsolved
6. T HT SRFD KR (THE TSAR OF DAKAR) – unsolved
7. SS (OASIS) – Matchstick, Korvus Redmane
8. FLYN GBXCR (FLYING BOXCAR) – AFKAMC
9. SLK (SALUKI) – unsolved
10. RDL PHVLNTN (RUDOLPH VALENTINO) – Cooper
11. SMM (SIMOOM) – Rorschach617
12. PRT (PORTEE) – unsolved
13. FRYS TRK (FREYA STARK) – unsolved
14. MNG LND THWRM (MONGOLIAN DEATH WORM) – Iglethal, Cooper
15. PPPLC RNR (POEPPEL CORNER) – Cooper
16. YRDNG (YARDANG) – Rorschach617
17. HTLCL FRN (HOTEL CALIFORNIA) – Shiloh
18. BG ST (BEAU GESTE) – unsolved
19. KNGHTS BRDGBX (KNIGHTSBRIDGE BOX) – Shiloh
20. DR WRFRT (DERAWAR FORT) – Cooper
21. *PK (KEPI) -TeraTelnet
22. *RRZZ (ZERZURA) – Iglethal
23. *HXPSN (SPHINX) – Iglethal, Cooper
24. *KZBMR (ZAMBURAK) – unsolved
25. *CLMNS (MESCALINE) – unsolved
* * * * *
Foxer Instructions
The collage foxer - for many, the classic form - hints at a hidden theme* with a disparate collection of picture clues. The 'defoxing' process is communal, individual commenters proffering clue identifications until some bright spark, spotting a link between clues, announces the secret theme.
It's rare for a clue to have a direct or obvious connection with a theme. If you spot an Avro Lancaster in a puzzle, then you're probably not looking for 'Operation Chastise'. A 'Wars of the Roses', 'Wyatt Earp', or 'musical roads' solution is far more likely. Erroneous guesses are par for the course and inexperience is no reason to hang back. Think you recognise that partially obscured mugshot, company logo, or game sprite? Believe that bonnet belongs to a Ford Zarathustra, that wingtip to a Blackburn Biffo? Sing out.
*Recent themes have included Louis Pasteur, Namibia's Skeleton Coast, Zorro, and Swan Lake.