The Foxer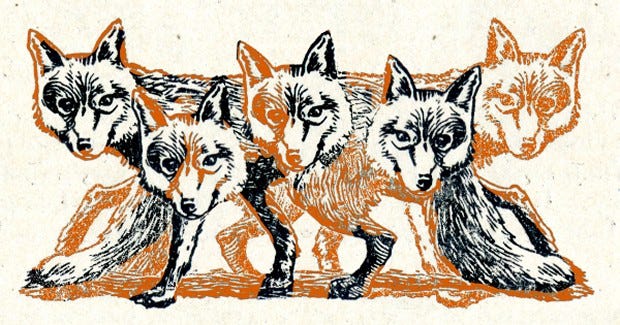 The graffiti in the defoxing annexe WC is revealing. None of the 200+ messages and pictures currently adorning the walls feature telephone numbers or cartoon genitalia. None make use of the F or C words. Popular pictorial subjects include bomber nose art, U-boat emblems, WW2 AFVs and leader caricatures (Whoever did the Churchill-in-a-Churchill sketch next to the hand dryer really should be working as a professional artist). Of the numerous literary efforts my favourite is probably the poem just to the right of the liquid-soap dispenser:
"The batsman stood on the burning deck
Feeling far from great;
The last Martlet that he'd guided in
was actually a Nate."
Last week's missing vowels foxer – 25 Things You Might Find In A Kitchen
1. DMBWTR - dumbwaiter (Stugle, Little_Crow)
2. PSTMC HN - pasta machine (Stugle, Iglethal)
3. NGR TN - Ina Garten (unsolved)
4. ST RNS - star anise (Stugle)
5. FRBLN KT - fire blanket (Little_Crow)
6. TQBLN CH - toque blanche (Little_Crow)
7. HSL F - house elf (unsolved)
8. BRGN - aubergine (Stugle)
9. BLS MCVNGR - balsamic vinegar (AFKAMC)
10. VLCRPTR - velociraptor (Stugle, Little_Crow)
11. SPTL - spatula (AFKAMC)
12. CHNTRLL - chanterelle (Stugle)
13. GS TSCFFR - Auguste Escoffier (phlebas)
14. MC RWVVN - microwave oven (Stugle)
15. CHCLTR- chocolatier (Little_Crow, AFKAMC)
16. FLRD RDGR - flour dredger (Little_Crow)
17. JLC HLD - Julia Child (Stugle)
18. NN - onion or naan (Shiloh)
19. DRSFR DMN - Doris Freedman (Little_Crow, AFKAMC)
20. TRNS PTDG - turnspit dog (Little_Crow)
21. KW* - wok (AFKAMC)
22. LLD - ladle or dill (AFKAMC, Little_Crow, Iglethal)
23. NZZLM* - mezzaluna (Stugle, JabbleWok)
24. CHSSLPBK* - splashback (skink74)
25. NZ J* - Zao Jun (unsolved though alison and Shiloh were on the right track)
* * * * *
Foxer Instructions
The collage foxer – for many, the classic form – hints at a hidden theme* with a disparate collection of picture clues. The 'defoxing' process is communal, individual commenters proffering clue identifications until some bright spark, spotting a link between clues, announces the secret theme.
It's rare for a clue to have a direct or obvious connection with a theme. If you spot an Avro Lancaster in a puzzle, then you're probably not looking for 'Operation Chastise'. A 'Wars of the Roses', 'Wyatt Earp', or 'musical roads' solution is far more likely. Erroneous guesses are par for the course and inexperience is no reason to hang back. Think you recognise that partially obscured mugshot, company logo, or game sprite? Believe that bonnet belongs to a Ford Zarathustra, that wingtip to a Blackburn Biffo? Sing out.
*Recent themes have included Lake Superior, snails, The Siege of Sidney Street, and Zorro.