The Foxer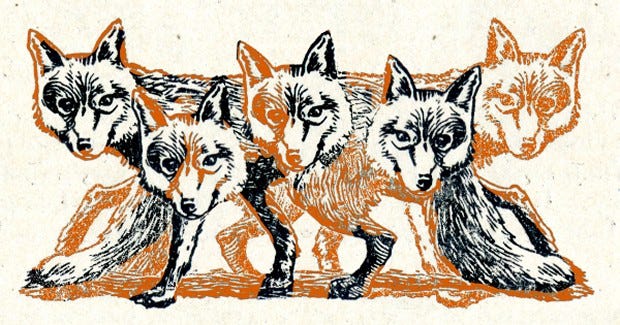 A typical afternoon in the Flare Path office: Roman wakes from a postprandial nap determined to recount a dream (He's a contestant on an episode of Bargain Hunt in which the experts are - Blue Team - Albert Speer and - Red Team - Elizabeth I, and the venue is an antiques fair on the Goodwin Sands. His team, Blue, triumph after purchasing a silver bonbon dish shaped like a Sd.Kfz. 251 for the trifling sum of £14). Uncle George invents a new form of edible chess in which the pieces and the board - a carefully sliced and disassembled Battenberg cake – can be consumed. Irma adds another two hexagons to Caradog's 'history of wargaming' tattoo.
Last week's foxer theme: pigeons (defoxed by mrpier and AFKAMC)
a. Clay pigeon (phuzz, Stugle)
b. Commando (AFKAMC, phuzz)
c. Tumbler (unsolved)
d. Reuters (phuzz)
e. Pigeon loft (Little_Crow)
f. Passenger pigeon (Stugle, Little_Crow)
g. Hatoful Boyfriend (unsolved)
h. Siege of Paris board game (unsolved)
i. GI Joe (phuzz, Stugle, AFKAMC)
j. Carrier pigeon (Zogg, Shiloh)
k. Pigeon camera (mrpier)
l. Walter Pidgeon (Little_Crow, AFKAMC)
* * * *
My Chief Foxer Setter's photo albums are littered with 'don't knows' - photos of museum exhibits he foolishly failed to label at the time and now can't identify. Perhaps you can help Roman by naming the twelve vehicles, one weapon and one thingamajig pictured below.
(click to enlarge)