The Foxer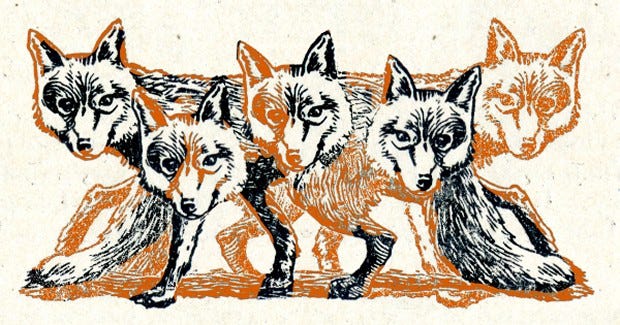 The Nissen hut is abuzz with anticipation. When General Bodymaster enters flanked by his two favourite handmaidens, Mason and Haughey, the hubbub swells momentarily before subsiding like a spent Sword Beach breaker. All eyes are on the General as he refills his pipe, leafs through a battered copy of Pilgrim's Progress, completes a crossword puzzle, consumes an imaginary banana, clears his throat and, in that cobweb-billowing baritone of his, speaks.
"Today, gentlemen, we defox."

The answers to last week's "25 things you might find on, in or under a mountain" foxer
1. WTH RSTTN weather station (Little_Crow)
2. DLWSS edelweiss (Little_Crow, slapcup)
3. BRZZS PR Abruzzi Spur (Stugle)
4. CHMS chamois (Stugle)
5. HR LNBLCK Harlon Block (Little_Crow)
6. STRD ST Star Dust (slapcup)
7. HR MNNMR Hermann Maier (Stugle)
8. CLR couloir (slapcup ½)
9. GRGML LRY George Mallory (Little_Crow)
10. HD Heidi (unsolved)
11. VLN CHCRD avalanche cord (Little_Crow)
12. GR NBTS Green Boots (AbyssUK)
13. RKNSTN Arkenstone (Little_Crow)
14. T RLN tree line (slapcup)
15. TNCM MNDMNTS Ten Commandments (Matchstick)
16. TZ Ötzi (Stugle)
17. PPPRSSS Peppersass (Blake)
18. MRMT marmot (Little_Crow)
19. THN Athena (Little_Crow)
20. CSTLWL FNSTN Castle Wolfenstein (AFKAMC, Stugle)
21. NDF* fondue (Blake)
22. NCR* cairn (Matchstick)
23. XB* ibex (Matchstick)
24. X C* ice axe (Matchstick)
25. RNYNNZ GTG* Tenzing Norgay (slapcup)
* * *
Foxer Fact #622
Devised as a means of covert identification by persecuted Barrabian defoxers during the Apostolov era, and later used openly by participants in the Umbrella Revolution, the F-shaped 'defoxer's salute' is formed by an extended left-hand index finger crossed perpendicularly by the extended middle and index finger of the right hand. Originally the gesture was made as inconspicuously as possible upside-down close to the body, but during the momentous protests of May 2002 it was generally made 'the right way up' above the head. In Joyce Mackie's iconic photograph of a rebel T-72 MBT surrounded by a sea of umbrellas in Zosimas Square, the tank driver in the centre of the picture can be seen giving the salute.