The Foxer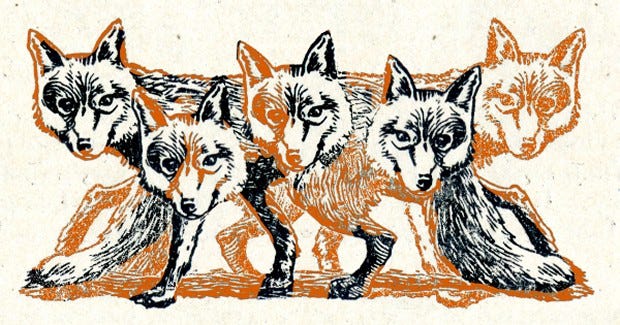 The defoxing annexe has been wreathed in fog for the last two days. Roman and me took advantage of the conditions to try out a new toy, a 6kW STIHL fog cutter. Carried either knapsack-style or on the hip like a clearing saw, the cutter can be fitted with 1m or 1.5m hot wires. We used the shorter ones for our first sally and quickly got into the swing of things. With Roman cutting and me stacking the blocks, it took us less than thirty minutes to clear the courtyard, and – after switching roles – only a further hour to clear the entire car park. Last year, using traditional cleavers and fog hooks, the same task took us the best part of a day!
The answer's to last week's '25 things you might find on, or attached to a horse' missing vowels foxer
1. LD YGDV - Lady Godiva (Little_Crow, Stugle)
2. RFLSCB BRD - rifle scabbard (Little_Crow)
3. PLR VR - Paul Revere (Barfo)
4. FRZB RND - freeze brand (Little_Crow)
5. MS TRF THHN T - master of the hunt (Little_Crow)
6. BTTNBR DS - button braids (Shiloh)
7. CLDD VL - Claude Duval (Little_Crow)
8. SRCNGL - surcingle (AFKAMC)
9. HPPSNDL - hipposandal (Stugle, Little_Crow)
10. TRVS - travois (AFKAMC)
11. THDN - Théoden (unacom)
12. BRCH - barouche (Little_Crow)
13. WN GDHSSR - Winged Hussar (Little_Crow, unacom)
14. SWNGLTR - swingletree (AFKAMC)
15. FRNKDT TR - Frankie Dettori (Little_Crow)
16. PSTLNC - Pestilence (AFKAMC)
17. RGT - ergot (Little_Crow)
18. S BLLWRTH - Isabell Werth (Little_Crow)
19. PLH MBT - Pelham bit (Little_Crow)
20. TCHNK - tachanka (unsolved)
21. BSNG* - nosebag (Shiloh)
22. QD NR* - rodeo queen (unsolved)
23. ZBL* - blaze (Shiloh)
24. RQV* - vaquero (unsolved) or Revoque (Shiloh)
25. YRTLP* - peytral (unsolved)
* * * * *
Roman wants movie titles today. Work out which films made use of the following locations to win Flare Path flair points made from holly wood and merchant ivory.