The Foxer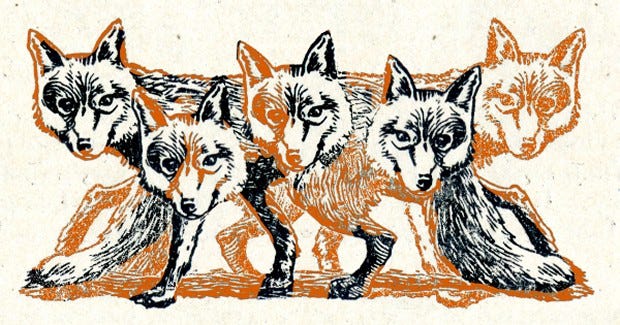 Warm-Up Foxer (What am I?)
I'm found in Africa and parts of the Middle East. I'm mentioned in the Bible. There's money in my manure. I'm a sun worshipper and singer. I'm looked up to in Zimbabwe's second city. I'm related to a much larger mammal. My arch-enemy bears the name of a distinguished French ornithologist.
Feature Foxer
Below is a list of '25 Things That You Might Find in a Library′ ('things' is used here in its broadest possible sense). Entries have been stripped of vowels and had any inter-word spaces repositioned. For example, if 'Philip Larkin' was present, he might appear as…
PHLPLR KN
Persuasion would be…
PRSSN
The last four entries in the list – those marked with asterisks – are especially fiendish. Not only are they vowel-less, they have also been anagrammed.
1. SLNC
2. FNTS TCM RFX
3. RLLNGLD DR
4. BBLPHL
5. LDP P
6. KLLL XC RSS
7. RTSTHNS
8. DTS TMP
9. LNRT WTTY
10. DFCTN
11. RST RCTDSCTN
12. PM LRVS
13. BKSTCK
14. LRBS H
15. CLN LMSTRD
16. STRYTLLR
17. VCRN HN
18. RM TLF RND
19. GT HR SN ND THQ CHFD TH
20. MLVLD WY
21. THG RFFL
22. PL-TTTT*
23. KBD*
24. DMN RGR*
25. RPPY*
* * *
SOLUTIONS
Last Week's Warm-Up Foxer
Answer: Bibendum (defoxed by phlebas)
Last Week's Feature Foxer (Political Places)
a Runnymede (Little_Crow, JB)
b Watergate Office Building (Lazzars)
c Wright-Patterson Air Force Base (AFKAMC)
d Konrad-Adenauer-Haus (unacom)
e Aung San Suu Kyi's house (Stugle)
f Mussolini's birthplace, Predappio (phlebas)
g St Johns, Isle of Man (Cian)
h House of the National Assembly of Serbia (Panzerschwein)
i Granita restaurant, Islington (Little_Crow)
j Landtag of Liechtenstein (unacom)
k Musical Fund Hall, Philadephia (UnholyDeath)
l Maidan Nezalezhnosti (Lazzars)
m Rabin monument (AFKAMC)
n Davos Congress Centre (unsolved)
o Plaza de Mayo (Lazzars)