The Foxer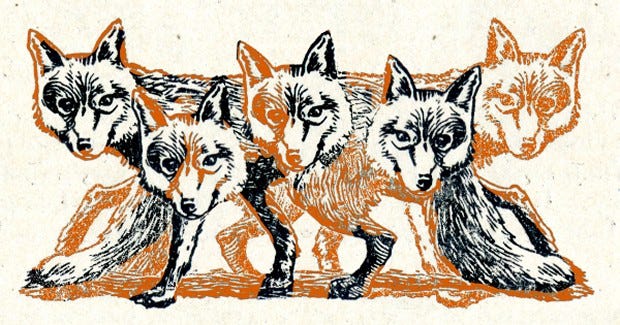 Maginot Maxine is shivering like a breeze-ruffled poplar tree. She swears old Mr. Spindle, an annexe regular, arrived as usual at 0930 this morning (They exchanged greetings; he mentioned the dead peacock – roadkill? – by the front gate). The encounter raises some interesting questions as we've just heard that Mr. Spindle dropped down dead in his garden yesterday evening.
Roman's word ladders don't work like standard word ladders. You clamber from bottom to top placing appropriate five-letter words on each rung. Usually a word inherits three letters from the word below it (the positions of those three letters are inherited too). The exceptions are the words derived from [A] clues which are anagrams of the words below them.
Clues should make the climb easier, but be aware that my unspeakably fiendish foxer setter has shuffled the ten clues on the upper half of the ladder (clues 11 to 20). For example '[A] Ambitious agri aircraft' probably doesn't belong next to rung 12.
20. _ _ _ _ _ Adjacent to the library and the hall
19. _ _ _ _ _ Headgear for hussars
18. _ _ _ _ _ Unit in Afghanistan '11
17. _ _ _ _ _ Malagasy moggy?
16. _ _ _ _ _ Can be heavy, sweet or synthetic
15. _ _ _ _ _ Dutch roadbuilders found a staggeringly old vehicle near here
14. _ _ _ _ _ A famous one was inspired by the Cadet Revolution
13. _ _ _ _ _ Fred, Velma, Daphne, Shaggy and Scoob
12. _ _ _ _ _ [A] Ambitious agri aircraft
11. _ _ _ _ _ This Quincy resident packs a punch
10. _ _ _ _ _ Short-lived US city
09. _ _ _ _ _ Type of bridge
08. _ _ _ _ _ Uniform that never sees combat
07. _ _ _ _ _ Word that can go after couch and elephant
06. _ _ _ _ _ Aichi product
05. _ _ _ _ _ Can be used as improvised armour armour
04. _ _ _ _ _ Steam loco component
03. _ _ _ _ _ Destroyer that served both the USN and RN
02. _ _ _ _ _ SEAD tool
01. a l a c k
* * *
SOLUTIONS

'30 Things That You Might Find in a Garden'
1. SNDL - SUNDIAL (AFKAMC) or SANDAL (Stugle)
2. RBTM WR – ROBOT MOWER (Gothnak, Stugle)
3. GRTRDJKY LL – GERTRUDE JEKYLL (Gothnak, Little_Crow)
4. T R FLF – TREE OF LIFE (Gothnak, Stugle)
5. GTRPSM – GEOTROPISM (Gothnak)
6. CLNCR VN – COLIN CRAVEN (Little_Crow)
7. BHV – BEEHIVE (Gothnak, Stugle, Little_Crow)
8. CM MLLWN – CAMOMILE LAWN (Little_Crow)
9. LTNFN TN - LATONA FOUNTAIN (Little_Crow)
10. LNLL – LINALOOL (unsolved)
11. NDR SNSHLTR – ANDERSON SHELTER (AFKAMC)
12. CL DMNT – CLAUDE MONET (phlebas)
13. SWTWL LM – SWEET WILLIAM (Stugle)
14. BR THRCDFL – BROTHER CADFAEL (Little_Crow, Gothnak)
15. F RTCG – FRUIT CAGE (Gothnak)
16. MSSS K – MUSO SOSEKI (unsolved)
17. JD SSCRT – JUDAS ISCARIOT (Gothnak)
18. SPRSK R – SUPER SOAKER (Little_Crow, Stugle)
19. CCKS PT – CUCKOO SPIT (Gothnak)
20. CHN CYGRDNR – CHAUNCEY GARDINER (Gothnak, AFKAMC)
21. RSRB R – ROSE ARBOUR (Little_Crow)
22. THN MB – THE NIMB (unsolved)
23. GRGRMN DL – GREGOR MENDEL (Stugle)
24. LMPY – LAMPY (Gothnak)
25. NYMS – EUONYMUS (unsolved)
26. WNNMS* - SNOWMAN (Little_Crow)
27. LHXP* - PHLOX (Stugle)
28. PYRT* - TOPIARY (unsolved) or PARTY (Gothnak)
29. CVTD* - DOVECOTE (Gothnak)
30. BBRRRR HCF* - RHUBARB FORCER (Gothnak)