The Foxer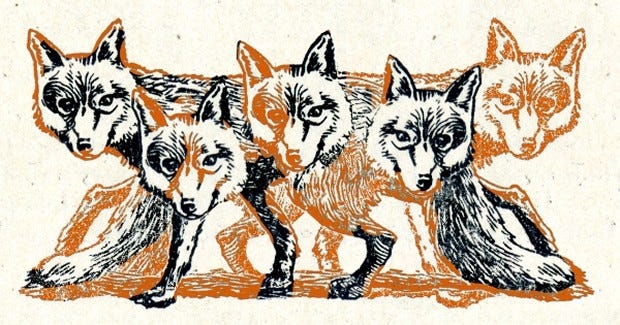 Sun out. Work done. Roman sitting on the front step, blowing soap bubbles for Rumpus to chase. Maxine and Uncle George in the yard pottering about with Hero, the annexe's 4" scale traction engine. Helen asleep on a rug under the magnolia, an open copy of The Chrysalids perched on her arm like a ridge tile.
This is it. The moment I've been waiting for. I type "EEL SPEAR" into my phone and less than a minute later, in a pavement cafe on the other side of the world, Father Time lowers his newspaper to find a silenced Walther PP pointed at his head.
This collage has a hidden theme.
* * *
SOLUTIONS
25 Things That You Might Find in a Sewer
1. LN DNNDR GRNDMSQT - LONDON UNDERGROUND MOSQUITO (Little_Crow)
2. T - IT (Matchstick)
3. RBNXP LRR - URBAN EXPLORER (Little_Crow)
4. CR LRD - CAROL REED (Little_Crow)
5. TYGH - OTYUGH (Gothnak)
6. NDYDF RSN - ANDY DUFRESNE (Little_Crow)
7. BLCKWTR - BLACKWATER (Matchstick, Little_Crow)
8. PR TLVCM - PARTIAL VACUUM (Little_Crow)
9. LTNN TZDR - LIEUTENANT ZADRA (Little_Crow)
10. B LDCR G - BOULE DE CURAGE (unsolved)
11. THNYLSTRDL - ETHINYLESTRADIOL (Gothnak)
12. MSM - MIASMA (Little_Crow)
13. MSTRS PLNTR - MASTER SPLINTER (Matchstick, Stugle)
14. MNCP R - MINI COOPER (The Bitcher III)
15. KYLKT RN - KYLE KATARN (Little_Crow)
16. CLCN - CLOACINA (unsolved) or CULICINAE (Gothnak)
17. JHNHLLNG SHD - JOHN HOLLINGSHEAD (Little_Crow, Stugle)
18. NSPC TNRBT - INSPECTION ROBOT (Matchstick)
19. JNVL JN - JEAN VALJEAN (phlebas)
20. B LCKSWN - BLACK SWINE (Little_Crow)
21. FLPNK - FILIPINKA (unsolved)
22. GNBLG RND - EUGENE BELGRAND (unsolved)
23. RSHT* - TOSHER (unsolved)
24. RD* - DOOR (phlebas) or ODOUR (Barfo)
25. GBTFR* - FATBERG (Little_Crow)
And the previous week's hive foxer...
Theme: Luxembourg (defoxed by phlebas)
HENRI (Barfo)
SCHENGEN (Barfo)
LUXAIR (Barfo)
RADIO (Stugle)
OCTAVE (Gothnak)
CRISIS (phlebas, Gothnak)
PECKVILLCHEN (Gothnak)
VIANDEN CASTLE (Shiloh)
PATTON (Shiloh)
GOLDCREST (Barfo)
QUETSCHENTAART (Barfo)
MERMAID (Gothnak)
BATTIN (Gothnak)
DUCHY (phlebas)
RED LANDS (Barfo)
BETTEL (Barfo)
LION (unacom)