The Foxer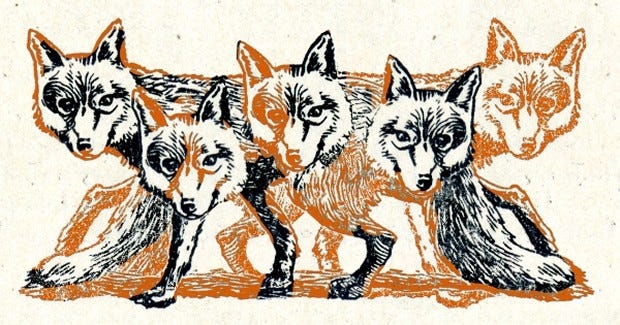 Warm-up foxer (What am I?)
I was born in Somerset during the reign of Queen Victoria. I'm mentioned in a Beatles song. I did my bit during WW1 and WW2. I've starred in several films. I was invented by a Geordie. I play an important role in the summer Olympics. I'm in the Guinness Book of Records. In my original form I had something in common with gunpowder and Nivea skin cream.
Feature Foxer
Below is a list of '30 Things That You Might Find in an Artist's or Sculptor's Studio' ('things' is used here in its broadest possible sense). Entries have been stripped of vowels and had any inter-word spaces repositioned. For example, if 'Pablo Picasso' was present, he might appear as…
PBLPC SS
Palette would be…
PLTT
The five entries marked with asterisks are especially fiendish. Not only are they vowel-less, they have also been anagrammed.
1. FTRST
2. LS*
3. PYGMLN
4. SCHHDDN*
5. LXWL DNG
6. MLSTCK
7. MDMDG LN
8. CLPRS
9. BSLHL LWRD
10. GR LW THPR LR RNG
11. TQMT*
12. SNN
13. FRNZXVRMS SRSCH MDT
14. STRCHR
15. CHRLSLG HTN
16. NT RLLGHT
17. RGYRF*
18. SNDRBT TCLL
19. RFFLR
20. CML LCLDL
21. WN STNCHRCHLL
22. MS
23. CDMMSL FD
24. HNSN MTH
25. VNTS
26. MRMN NT
27. PTRN
28. FRNN DLGR
29. TRTS*
30. DR MCS DBYT HF LGHTFB R NDP MG RNT SC ND BF RWK N NG
* * *
SOLUTIONS
Last week's warm-up foxer: Beauty Revealed (defoxed by phlebas)
Last week's feature foxer theme: musical instruments (defoxed by Gothnak)
a Glockenspiel (AbyssUK)
b Violin (Stugle)
c Daf (Stugle)
d Cornet (phuzz)
e Sax (Gothnak)
f Drum (Gothnak)
g Triangle (Matchstick)
h Sousaphone (Matchstick, phuzz, chuckieegg)
i Piano (Gothnak)
j Harp (OoooOoOOooh)
k Oud (Gothnak, Rorschach617)
l Cello (Gothnak)