The Foxer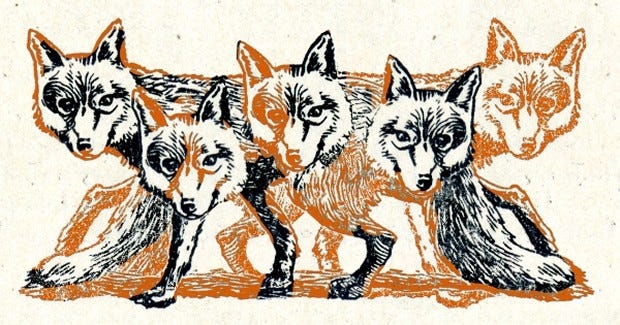 Warm-up Foxer (Who am I?)
I had something in common with a 10th Century bishop of Winchester, an early George Lucas film, and a type of eagle. I died in the same year as a famous Czech writer. My oldest friend, a freedom-loving female, outlived me. My killer was convicted with the help of digital evidence. I was named after a politician. I never left my country of birth. To view my remains you'll need to travel to a spot thirteen miles from Geneva.
Feature Foxer (Word Chain)
Tired of fabricating word ladders, Roman has just forged his first word chain. To completely defox it you'll need to provide him with the sequence of 24 words suggested by the clues below. A word can be any length and is linked to the next word in the chain by its last two or three letters. For instance 'honeysuckle' might be followed by 'leviathan'. 'Handel' could come next. Then 'delta'. Then 'taiga'. And so on.
Complicating things a tad are the six red italicised clues. These have been shuffled. For example "Sunk during the Falklands War" probably doesn't refer to word #12.
1. Responsible for MSTS
2. The natural habitat of a Chindit?
3. One of WW2's paper panzers
4. Mysterious Pacific hieroglyphs
5. A lakeside town that hit the news in 1976
6. Used to flavour a fragrant tea
7. The collective noun for a group of limos?
8. A metro station close to a Kursk Submarine Disaster memorial
9. Leonardo da Vinci painted one
10. A word that can go before munition and gas
11. His son founded an empire that lasted over 600 years
12. Sunk during the Falklands War
13. An Allied WW2 AFV that you won't find at Bovington
14. A Ford product
15. A word that can go before boat, alley, or net
16. An unusual USN ship that slipped beneath the waves in 1982
17. Found high up on a square-rigger
18. This Continental propliner wasn't a success
19. A river mentioned in Dante's Inferno
20. A Churchill tank variant
21. A curlew-like wader
22. One of Steel Division's 'aces'
23. Can be used to colour cheese
24. A garment mentioned in The 39 Steps
* * *
SOLUTIONS
Last week's warm-up foxer: I was Marcus Garvey (defoxed by Artiforg)
Last week's geofoxer theme: banks and banking (defoxed by KarolisLive)
a Bob Hope Airport station, Burbank (jloll)
b Bank of China Tower, Hong Kong (Gothnak, Stugle)
c Citizens Bank Park, Philadelphia (KarolisLive)
d Swiss National Bank, Bern (unacom)
e Millbank Tower, London (Zogg)
f Norwegian Aviation Museum, Bodø (mrpier)
g Société Générale bank, Nice (Gap Gen)
h Svalbard Global Seed Vault (KarolisLive)
i Civil War Memorial, Adrian, Michigan (mrpier)
j Bristol Motor Speedway (Gothnak)
k Upper Maudlin Street, Bristol (KarolisLive, Gothnak, larpsidekick)
l Jodrell Bank (Gothnak, KarolisLive)