The GAME Is Back On: Bought Out Of Administration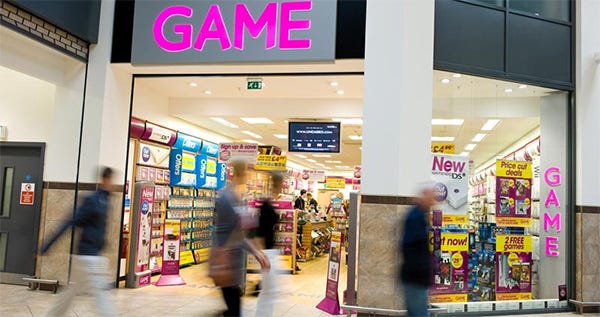 It's official. GAME, the UK's biggest high street retailer of games, is saved. GAME, and Gamestation, will continue on, and 3,200 jobs secured. This is thanks to the company's being purchased by Baker Acquisitions and OpCapita, recent owners of Comet. That's good news for those who stay, which will include a "small number" of head office staff, previously made redundant, but little comfort to the 2,100 who lost their jobs, and are still facing not receiving redundancy payments. 277 stores haven't survived the ordeal, but the new owners say there will be no further closures.
No details of how much was paid are being revealed. Not being an industry analyst, and frankly confused by the whole thing, I'm not going to hazard a guess as to how it all worked, but with the company in such massive debt (around £85m) you have to assume the price was rather low. I'd be surprised if it were more than a £1. And as awful as it is that so many lost their jobs, few could doubt the streets were a little GAME/Gamestation heavy, every town seeming to contain at least one of each, and many multiple copies left over from the EB merge of yore. Saturation, in a market where there's an unavoidable shift to online/digital distribution, seemed an odd direction for the company to stick with. But OpCap and Baker seem to believe there's still a place for retail.
"We are pleased to have reached agreement with the Administrator. We strongly believe there is a place on the high street for a video gaming specialist and GAME is the leading brand in a £2.8 billion market in the UK. We have assembled a strong team of experienced industry operators to implement the programme of operational change that is needed. There is a huge amount to do but we look forward to the challenge of restoring GAME's fortunes in partnership with its employees and suppliers."
You really have to hope there are some serious questions asked about GAME's failings, and how it got into such a mess. But my stomach tells me that the non-specialist companies that now own the chain will likely focus on things like "streamlining" and "value for customers" and other things that don't mean bringing back in a comprehensive library of games on multiple formats - something the stores had when they were thriving.
The other big question is, how long is gaming retail really a viable prospect? By Christmas 2013 we'll likely have two new consoles competing for our floor-space, and certainly those lumpy physical objects will be good for the shops. But surely both the new PlayStation and Xbox will have fully online markets for new games? The artificial restrictions placed on the current generation are increasingly ridiculous, and deliberately preventing gamers from having easy, instant access to games in the next gen would be madness. With PC, whether by the merits of digital or the failings of GAME, primarily online already, that leaves retail purely serving grans buying ill-advised Hasbro video games for soon-to-be disappointed grandchildren. Surely the only sensible thing for GAME to be doing at this point is hoovering up as much money as they can for the next two years, while shifting their business to a purely online model? Their US counterpart, GameStop, have made their move, buying Impulse and rebranding. Indeed, they're already selling into the UK, albeit at ludicrous prices. GAME really needs to catch up. They do offer downloads on their site, but only on very few games, and when they do the prices can be utterly peculiar. More, you'd never guess they offer downloads when looking at the front page - it's clearly not a priority.
We're delighted that so many jobs are secured. But we'd really like to see the new owners addressing the redundancy payments of those who have been fired. At least those individuals now have an entity to sue, I suppose.