The House Abandon creepers announce Stories Untold
Strangest things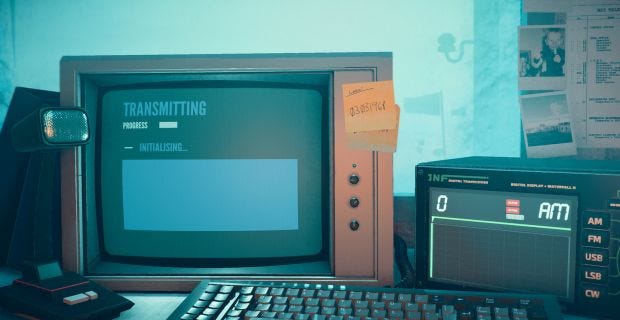 You might remember us speaking (quietly and warily) about The House Abandon in our free games roundup. It was a short horror game, a spooky yet swanky piece of interactive fiction about playing an old text adventure on an old computer in your family's old holiday home. It had some parser issues but it since got a polishing and ended up being one of the best free games of last year. If you liked it, guess what? There's a collection of tales of its ilk coming your way in the form of Stories Untold [official site], from the same developers.

It's described as a "compilation tape" from a cancelled series. But what that really means is that it features four smaller games in one. They all look as if you're interacting with machines in some way – computers, ham radios, scientific equipment, CRT monitors. A yet-more-polished version of The House Abandon also features as one of the episodes. You can see a trailer for it below, which is more or less a reworked trailer for that of The House Abandon. But any excuse to listen to that game's opening theme.
This is all the work of No Code, a gang of peeps clearly in L-O-V-E with Stranger Things. For this one they've been nabbed by publisher Devolver Digital, like ninety billion other small retro-focused studios. The compilation itself will be out February 27 – that's not far off at all! - and will pop up on GOG and Steam.
Meanwhile, The House Abandon is still free on itch.io, if you want a taste of the creepiness that awaits.