The Ultimate Battle? Dragons Vs. Unicorns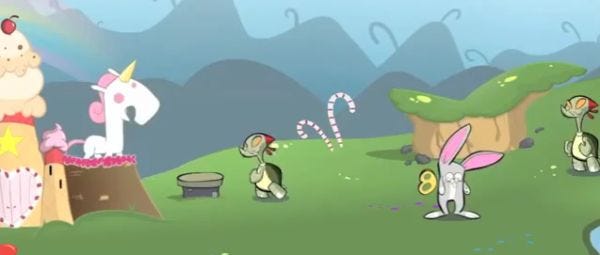 I have this widget that pops up when I get an email, telling me the subject title. I'm sure you do too. I'm not special. An email just arrived, and that subject read, "Dragons Vs. Unicorns".
If this was going to be one of the 870 emails about iOS games we get every day, I was going to cry. And beat up whoever sent it. But no! While of course it IS for iOS, it's also coming out on PC! I can legitimately write about a game called Dragons Vs. Unicorns, which is clearly going to be the best game of all time. And they can quote me.
I mean, I'm writing this before I've read anything about the game, and before I've watched the trailer. I'm currently too excited by the name "Dragons Vs. Unicorns" to focus on anything other than writing about how excited I am about the name "Dragons Vs. Unicorns". I mean, surely there's no better combinations? Chairs Vs. Waterwheels? Nope. Carparks Vs. Butterflies? Close, but it's not there. I think DvU is obviously going to be brilliant.
What the hell was that?
First of all, wow.
Second of all, isn't this Bat Vs. Fox Vs. Turtle Vs. Bunny? In slo-mo. The Dragon and Unicorn appear to be inactive generals, watching from their fairy tale castles.
Thirdly, did that fox's head come right off?
Fourthly, what?