The Witcher 2 And Mount & Blade Free In GOG Sale
Bargains galore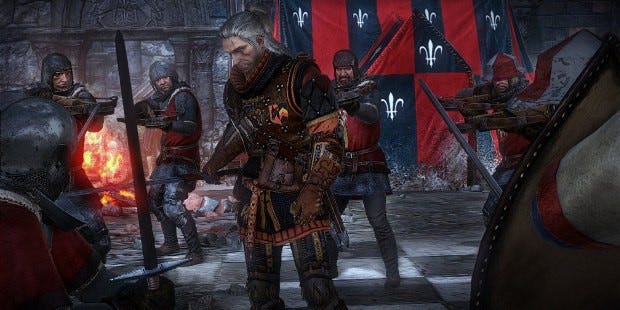 You know those games GOG sell, yeah? Mostly old ones but a fair number of new things too, right? Those games. Most of them are on sale. GOG launched their autumn sale, with discounts on over 700 of their 860 games. Most seem to be half-price, while bigger discounts come in flash sales and daily deals and bundles and those other sorts of things. They're also throwing a few freebies out, giving the original Mount & Blade to all and sundry for the next two days, and offering the splendid Witcher 2 free if you visit the site on seven days over the sale. Video games!
The box to get Mount & Blade free is somewhere on the GOG front page, so go give it a click. As for The Witcher 2, you'll need to visit daily and collect "stamps" by clicking on the box there. Seven will get you the game plus a movie, The Gamers, for free. The sale runs until November 25, so there's no need to remember to visit every day.
As for what to buy in the regular sale, jeez, I don't even know what to recommend. Check the front page for the flashy timed offers then dive into the rest, I guess. The old wisdom is to wait until the end of the sale before buying anything not on a timed mega-discount, but some of these seem to be so brief that you'll surely miss lots anyway. Buy games you want at a price you're comfortable with. If you want to buy games and are able to. It's okay if you don't, too.