Competitive fairytale game The Wolf's Bite out in August
Blow your mouse down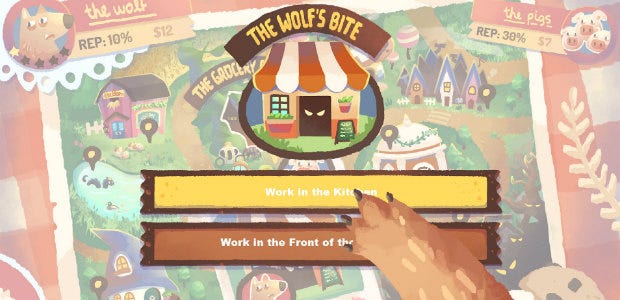 The Wolf's Bite [official site], the fairytale 1v1 competitive choose-your own adventure game (yep, you read that right), is coming out on August 21st. If you haven't heard of it, it's all about the big bad wolf's attempt to set up a small-town restaurant after failing in the demolitions industry – and the three little pig's attempt to bring his new venture crumbling down.
Basically, one player is the wolf, one player the pigs. The decisions that each makes will lead to one of more than twenty endings in which either the wolf succeeds or the pigs get their revenge for that time he blew their homes away.
The art is bright and colourful and the writing, at first glance, looks funny, so I'm quite excited for this one. I like the way the pig's trotters and the wolf's paw sneaks onto screen to pick between options, as seen in the new trailer below.
It's all predictably light-hearted: as the pigs, you'll be choosing whether to get drunk or enter a dance competition, for example. The developers say there are "more than 375 unique paths through the game" that each player can take. That's quite a lot, and the key will be whether those paths are substantially different or not. This is a game that's not designed to be played through just once.
You'll be able to play against a friend or against the computer. Against a friend will surely e more fun.
The Wolf's Bite will cost you $7.99 (around £6.15) when it hits Steam for Windows and Mac on August 21st.