This 30-year-old Game Boy platformer is getting a colourised PC makeover
Trip World DX is coming back after three decades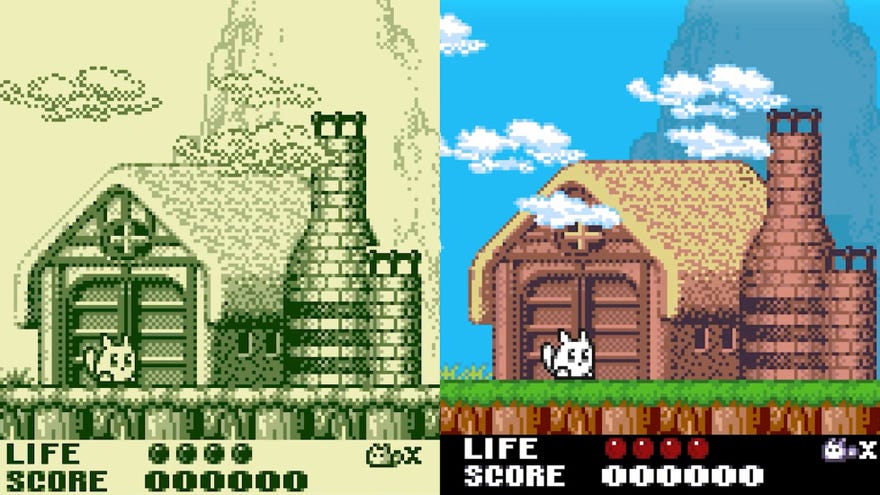 Limited Run Games have announced they're bringing back the 1992 Game Boy game Trip World, a charming Kirby-esque platformer whose flowery monochrome world had, until recently, been more or less lost to time. Thankfully, Limited Run are collaborating with the original developers at Sunsoft, including the game's director Yuichi Ueda, to bring the forgotten game back to PC and consoles (including the original Game Boy Color, of all things) in the form of Trip World DX.
Trip World puts you in the shoes of Yakopoo, an adorable bunny-like creature who's on a journey to restore peace to the world by saving a magical flower. Yakopoo kind of resembles a white version of Kirby with its round design, puffy cheeks, and ability to shapeshift, although Yako can't inhale everything in the known universe, sadly.
Despite its simplicity, Game Boy owners at the time were smitten by the game's visuals and audio, and looking back, it's not hard to see why. Taking a look at any gameplay video for Trip World feels like a warm, nostalgic hug, as if you've been reunited with a childhood pet that's jumped into your lap. Unlike other handheld games at the time, Trip World was more focused on simply brewing in its chill vibe, and it looks like it holds up based on Limited Run's latest CarbonCast episode (embedded above).
The re-release, Trip World DX, includes the original game in all its 8-bit glory, alongside a fully colourised version and a banging remastered soundtrack. A museum mode also contains design documents, video interviews with the original devs, box scans, and other never-before-seen stuff that, let's face it, should really be included in every remaster, remake, and re-release.
What's more interesting, to me at least, is how Trip World DX came about, and what's next. Trip World DX is returning thanks to the Carbon Engine, a development tool that "uses emulation as a base" to help studios bring old games onto modern systems. The engine was previously used to bring back the very first Shantae game and beat 'em up River City Girls Zero just last year. The clue's in the name: the tool is used to create carbon copies of old games, with a little extra sprinkled on top. Limited Run say it's used for games "that are rare, highly sought-after, or otherwise no longer available."
Limited Run say "we're losing history on a daily basis," which led to them trying to preserve games such as Trip World. Yakopoo's journey won't be the only revival, though, as they tease some "shocking" reveals coming over the next year in their Carboncast video. Any form of game preservation is a plus, and I'm excited to see what other weird things get pulled out of limbo.
Like Shantae and River City Girls Zero before it, Trip World DX will release digitally too, but if you want a physical copy, you'll need to order one here before June 11th on PC, Switch, PlayStation, and best of all, Game Boy and Game Boy Colour. There's unfortunately no word on an actual release date yet, though.