Norwegian Horror Through the Woods Is Out Now
No, Espen, no!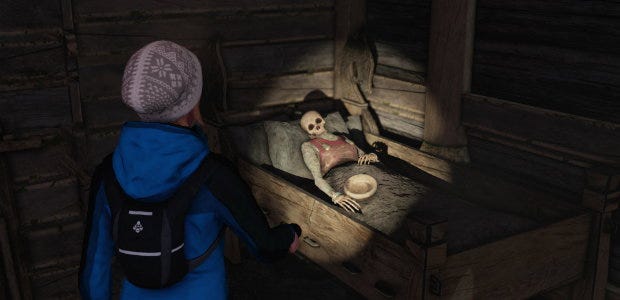 If you've ever wanted to feel what it's like to be a child in a forest in Norway, or a mother who's lost a child in a forest in Norway then Through the Woods [official website] stands to make your dreams come true. The game is influenced by Norse mythology and Norwegian folk tales and tells the story of a mother whose son has a fascination with a pier and her constant struggles to keep him away from it because it's dilapidated and dangerous. So, my typical Saturday night then?
Alas, the woman's plight only deepens when little Espen does whatever he wants and takes a boat into the haze of the Norwegian morning. The meat of the game involves you, as the mother, looking through the woods for Espen in a third-person perspective. If psychological horror is your bag, then the eerie woods of Through the Woods should tingle your spine and spook your soul. Probably.
Orrrrrrrr it'll just be another game where you walk around and get spooped by jump scares here and there. Hopefully that's not the case. The baby crying in the trailer sounds a lot like the same sound effect at the beginning of the Mickey Avalon song "Drugs." Also, the game's logo reminds me of a death metal band's logo, though it's too legible to actually be one. Judging by the trailer I'm not sure how it got so many accolades when it was first shown off, but hey. I haven't gotten to play it for myself just yet. Maybe I'll be pleasantly surprised. Here's what Pip had to say about last year's Kickstarter demo.
If you're looking for a ween to hallow you this Halloween, Through the Woods hit Steam and GOG on Thursday. You can get it now at £14.39/17,99€/$17.99, which is 10% off the normal price!