Tilt your way past mountain monsters in TumbleSeed – out now
Seed of something great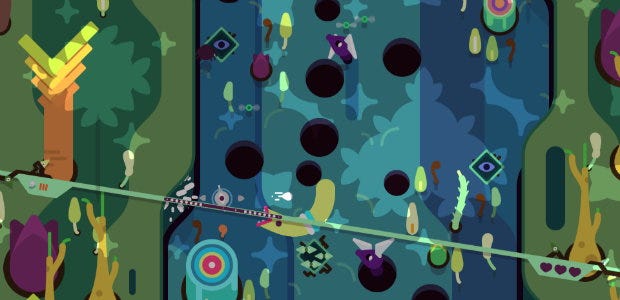 TumbleSeed [official site] is a colourful arcade game about rolling a seed up a mountain, complete with monsters, procedurally-generated levels and 30+ character upgrades. A roguelike-like, if you will.
You tilt a horizontal beam left and right, rolling your tiny friend away from holes and traps as you move steadily skywards.
Alice liked the preview build she played a while back and, now it's out and has a launch trailer, I'm impressed too. The themed levels all look bright and varied, the music is funky, and there's plenty of on-screen action.
I can imagine it gets pretty hectic in its later stages, so you'll no doubt need its 30+ power-ups. They all have brilliant names, like Floodfruit – which fills the holes ahead with water – and Bounceberry, which you can use to spring away from danger.
If you want a bite of the action, it's £10.99/$14.99 on Steam, itch.io, and the official site, which scrolls upwards instead of downwards. Clever, eh?
And if you're not already tempted, there's a $500 daily challenge every day next week. Nab the high score and you take home the cash. Sadly it's US-only, so us UK folk will have to be content with the satisfaction of climbing the leaderboards.
Here's the full trailer. What do you think?