Timespinner looks deliciously Symphony Of The Night-ish and launches this month
But can she eat peanuts like a normal person?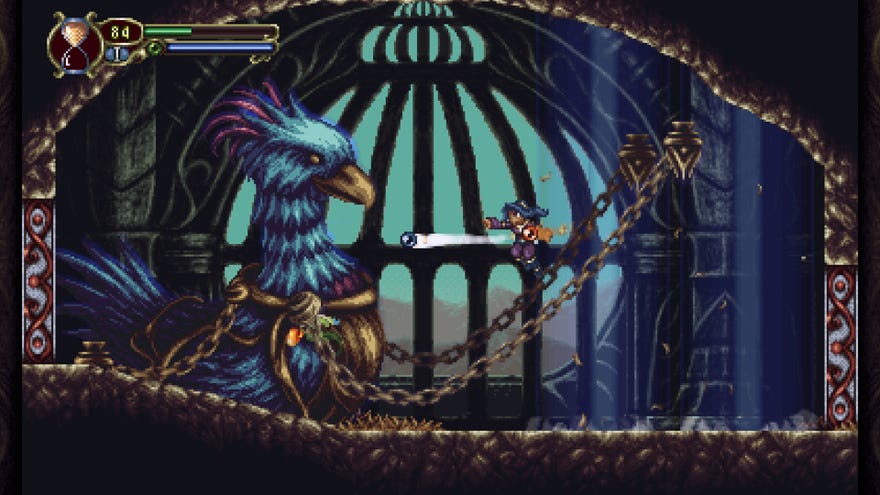 Good things come to those who wait, though I'd imagine that's easier if you can control time itself. Kickstarted in June 2014, Timespinner might have missed its November 2015 release date, but that beautifully detailed PSX-era sprite art hasn't aged a day.
Developed by Lunar Ray Games, it's a Metroidvania with a time-bending twist and a high fantasy setting that looks closer to Symphony Of The Night than most. It fell off my radar but today its new publisher - Chucklefish - announced that the game will be arriving on September 25th. Below, a dramatic launch trailer.
While Timespinner doesn't look like it's doing much new, it's definitely doing it with style. Huge chunky boss sprites, gothic castles and a very Alucard-esque power walk are shown in the trailer below. Lunar Ray do promise that this one will be more story-heavy than other games in the genre, following protagonist Lunais on a murder-bender across time and space. She's aiming to avenge her family by destroying an entire magical empire. Let this be a lesson: Do not go upsetting anyone with the capacity to kill your great, great grandfather.
Lunais's main power is freezing time, allowing her to either re-position for an advantage in combat, or to just use enemies as platforms, which could result in some complex puzzling sequences. One other clever feature is Timespinner's co-op system - sounding especially good for potential parent-and-kid duos, a second player can directly control the cute little familiars that follow Lunais around.
Timespinner does have some direct competition amongst the glut of Metroidvanias launched over the past few weeks. Touhou Luna Nights - recently released as early access - boasts similarly decadent sprite art and a similar time-freezing system. With both games available so close to one another, it'll be interesting to see which does more with its temporal mechanics. Metroidvania fans are just spoilt for choice these days.
Timespinner will be out in just two weeks, on September 25th. You can find it here on Steam, and read more on its official page. It will cost £15/€17/$20, and support both Mac and Linux.