Titanfield: CoD Advanced Warfare Multiplayer Revealed
Looking not to be a standard bore fare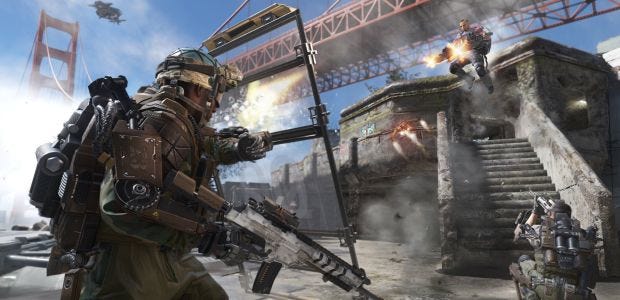 Heya, Call of Duty, buddy, how are you doing? Breakups are hard, aren't they? Ex-friends Respawn are off doing their own thing and that big bully Battlefield's still swanning about, making your life difficult. You wanna look cool and hip, so at Gamescom yesterday you showed off your hottest new clothes, spruced up versions of the last-season garbage those losers are wearing. Double-jumps and cloaking, maps that modify themselves over time - you've taken the best of them and mixed it in with your own feel. Plus, for some reason, Unreal Tournament dodging. That one's a bit off the wall.
That trailer crams a lot of information into a short time. Sledgehammer have attempted to script some set-pieces to show off the changes but it still doesn't really do justice to just how big some of these modifications are. The addition of double jumps, dodging and air dashes is a huge step from the slower-paced, land-locked end of the FPS spectrum Call of Duty ordinarily inhabits.
Customisation has a massive overhaul that the trailer barely touches on. Classes can be created via a point distribution system that was first used in Black Ops 2. There's now loot drops giving guns whose base stats vary from the norm. The infamous scorestreaks are upgraded as well. They're now modifiable in a similar way to weapons, allowing attachments that will change, for example, a machine-gun turret to one that fires rockets. There's also a glimpse of co-op versions, where two players will control different elements of the same scorestreak, and map based ones with more global effects than normal.
All these beans, and a few more, were spilled yesterday during the hour-long reveal event. Jump to 1:12:00 in this archive of the stream to skip the waffle: